Heiner Stadler: Jazz Alchemy
BY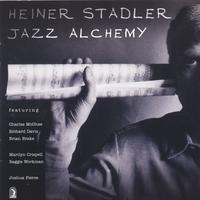 The concept of "Third Stream" and improvised compositions (composed improvisations?) did not die in the '50s. It has matured through the last half century to the point where the line between composition and improvisation has become extremely blurred. (Witness the graphic arrangements of Morton Feldman, for example, which require the performer to specify individual notes while maintaining a calculated course of pitch or intensity.) On discs like Heiner Stadler's
Jazz Alchemy,
it can be a real challenge to tell exactly where the composition ends and the improv begins. To use Stadler's term, the goal with this hybrid music is to attain a special kind of "calculated inaccuracy."
Part of the reason Jazz Alchemy works so well is that Stadler has enlisted some truly outstanding improvisers for the task. The title track (and its six reincarnations) specifies only a minimal harmonic framework: it's up to trumpeter Charles McGhee and bassist Richard Davis to interpret Stadler's sparse written arrangements into melody and harmony. McGhee plays short, linear fragments which frequently alternate with bass melodies. Bassist Richard Davis, who has experience with everything from Stravinsky to Dolphy, lends a particular versatility to the suite. Drummer Brian Brake, a Stadler alumnus, plays nonobtrusively but sensitively, helping along the bebop, out-rock, and Latin feels of the different sections. The original 1975 rendition of "Jazz Alchemy" specified only a trumpet part, but along the way Stadler made the welcome addition of a rhythm section.
The most piercingly brilliant performances on Jazz Alchemy are two tracks delivered by pianist Marilyn Crispell and bassist Reggie Workman, who are experienced collaborators. They approach Stadler's composition "Three Problems" (Faulkner's all-important trio of money, love, and death) with a highly ironic flair. While Workman serves up a steady series of grooves, Crispell defies the force of conformity by punching out clusters and rapid scalar runs. Just when you think you recognize regular piano work over a walking bass line, Workman or Crispell head off in a different direction. It's this constant give-and-take pull that provides so much interest for the duo portions of Jazz Alchemy.
Pianist Joshua Pierce applies a twisted, harmonically challenging approach to the solo versions of "Three Problems." He leaps from sparse, bright, punchy lines to dark, harsh, pedaled chords. His solo performances illustrate the ultimate irony: Pierce applies a free improv-based style to partially arranged material. It's hard to tell if his playing more closely resembles modern classical or free jazz. Rarely does he allow a singing melody to appear; instead, fragments and clusters pop up intermittently, leaving the listener to perform the reconstruction.
With this multiplicity of approaches, there are bound to be plenty of moments where the listener ends up scratching his head and wondering what's going on. That may be the Stadler's goal: he certainly isn't striving to reproduce any obvious jazz idiom, but instead a series of partial fragments framed within his chosen context. Forthislistener, Jazz Alchemy is a constant process of discovery and rediscovery: jazz transformed into something palpably different.
Contact Labor Records at [email protected]
Track Listing
Jazz Alchemy: Still Bebop; Three Problems (duo version 2); Jazz Alchemy: The Nod; Three Problems (solo version 1); Jazz Alchemy: Out-Rock; Jazz Alchemy: Self-portrait; Three Problems (solo version 2); Jazz Alchemy: Brooding; Three Problems (duo version 1); Jazz Alchemy: Latin Gretchen; Three Problems (solo version 3).
Personnel
Charles McGhee: trumpet(s); Richard Davis, bass; Brian Brake, drums; Marilyn Crispell, piano; Reggie Workman, bass; Joshua Pierce, piano.
Album information
Title: Jazz Alchemy | Year Released: 2000 | Record Label: Labor Records
Post a comment about this album