Hardcore Chambermusic: A Club for 30 Days
By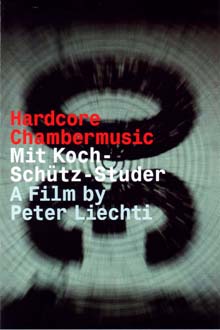 Koch-Schuetz-Studer Ensemble
Hardcore Chambermusic: A Club for 30 Days
A film by Peter Liechti
Intakt
2007


The film Hardcore Chambermusic has a score that's less typical narrative movie music than nature documentary supportive music. The trio of Hans Koch (reeds, electronics), Martin Schuetz (cello, electronics) and Fredy Studer (drums, percussion)—one of the most exciting improvising bands working in Europe today—was given the remarkable opportunity to transform an old Zurich factory into a club and put on concerts there every night for 30 days in September 2005.


Director Peter Liechti's record of that month presents the three musicians in their natural habitat— setting up, playing, discussing, drinking—yet the film manages to exceed the artificial limitations of most traditional music videos. It does so by focusing as much on process as on actual music, with only relatively brief snippets of what were 40-minute sets and some footage of fascinating exchanges among the players on improvising (dialogue captured more often as conversations than as comments directed towards the camera). Extreme, almost voyeuristic, closeups—not just of the musicians but also of listeners (including a priceless shot of Irene Schweizer holding her ears), bartenders and even a motific ceiling fan—are included, heightening the film's sociological bent.

What becomes evident very quickly is that this is cinema first, irrespective of subject. Liechti's camera work, sound and video editing as well as shot framing and cinematic architecture are absolutely superb. Each of the DVD chapters—a convenient partitioning tool—focuses on various elements of a performance and is filmed using approaches and techniques appropriate to the content of the frame. The movie itself becomes improvisatory, so much so that the music that is the film's subject matter actually becomes a soundtrack to the visuals rather than the images becoming secondary to the thematic focus on the making of a film score. What is achieved in the short space of the film is a verisimiliar representation of the 30 days that makes the movie seem like it has gone on for weeks.


Personnel: Hans Koch: reeds, electronics; Martin Schuetz: cello, electronics; Fredy Studer: drums, percussion. Peter Lichti: director.
Production Notes: DVD PAL; 16:19; 72 minutes, 14 chapters; Colour; Dolby SRD (5.1). Original version: Swiss/German; Subtitles: English, German, French.
Post a comment
---
FOR THE LOVE OF JAZZ
All About Jazz has been a pillar of jazz since 1995, championing it as an art form and, more importantly, supporting the musicians who create it. Our enduring commitment has made "AAJ" one of the most culturally important websites of its kind, read by hundreds of thousands of fans, musicians and industry figures every month.
WE NEED YOUR HELP
To expand our coverage even further and develop new means to foster jazz discovery and connectivity we need your help. You can become a sustaining member for a modest $20 and in return, we'll immediately hide those pesky ads plus provide access to
future articles
for a full year. This winning combination will vastly improve your AAJ experience and allow us to vigorously build on the pioneering work we first started in 1995. So enjoy an ad-free AAJ experience and help us remain a positive beacon for jazz by
making a donation today
.