Chasin' Charlie's Ghost: Modern Guitar
Charlie Christian may or may not have been the first musician to master the electric guitar, but one thing is certain: the first guitarist who plugged in, whoever it was, forever changed the course of modern music. Guitar styles through the decades since passed seem to have multiplied until they outnumber guitarists! But since there always seems to be room for more...
Joyce Cooling
Revolving Door
NaradaJazz
2006
Gibson Guitars' 1999 Jazz Guitarist of the Year, Joyce Cooling here paints a bright and colorful picture with loving strokes. You might be surprised to learn that this is her portrait of an often dark subject.
"'Revolving Door' is a metaphor for a situation we humans often find ourselves in, Cooling explains, "where there is seemingly no beginning and no end to a problem. It can be a frustrating treadmill with the same path ruthlessly cycling under your feet. The specific 'Revolving Door' that I am referring to in this CD is the cycle of mental illness. Everything from the treatments, the so-called solutions, and the unknown causes, to the inaccurate stigmas of mental illness all suffer from this 'Revolving Door' syndrome.
Cooling's guitar rings out clear and smooth and bright through this
Door
, with the sounds of such influential jazz/pop guitarists as Larry Carlton and George Benson often shining through. Her accompaniment, especially the cool and fluid electric keyboard shadings from co-composer, arranger and producer Jay Wagner, certainly flatters her playing. Several examples of their keyboard and guitar interplay suggest instrumental out-takes from jazz-rock fusion albums by Steely Dan. The background horn chart in the opening "Mildred's Attraction might come from
Aja
, for example, and this title track, like the title track to
Pretzel Logic
, churns into an erudite modern-day blues.
"Come And Get It soars into jazz atmosphere, as Cooling flies around her harmonic range and pauses to aggressively, repeatedly hammer key phrases. But
Revolving Door
also offers a little more than standard smooth jazz fare. "Mildred's Attraction, for example, concludes in a surprising jam of Brazilian and jungle percussion. Her title track nuzzles against the blues; it's still soft and supple -nowhere near "down and dirty -but undeniably blue in feeling and tone. Benson's blue light burns through "I Will Always Love You (Ode To The Audience), a grateful solo blues propelled by scatted vocals and companion guitar. "Little Sister luxuriates in acoustic funk that seems to float softly down, as if played from the comfort of her own back porch. As her guitar gently weeps (not so much in the notes she plays but in the way that she plays them), "Sister feels like one of her most "for real songs on this set.
"The CD isn't a compendium of tunes about mental illness, concludes Cooling. "The title is a testament to the syndrome as it impacts both life and the mental health crisis in our world today.
"For me, this hits home. Having grown up with a brother with schizophrenia, I am a part of one of those millions of families caught in the 'Revolving Door.' A portion of our proceeds from the sale of 'Revolving Door' will go directly to NAMI (National Alliance on Mental Illness) to help support people living with mental illness.
Esteban
Best of Esteban
Dreambox Records for Esteban Music
2006
Born near Pittsburgh, PA, Stephen Paul apprenticed in Spain for four years under Andres Segovia, who bequeathed upon this protégé the professional name Esteban. Esteban's first new release since 2003 is not a convenient repackaging of previously recorded music; he has recorded new versions of favorites from his repertoire, from Spanish dances to familiar ABBA and Beatles songs, instead.
On its surface, some of this might sound too comfortable and genteel. There's no denying the quality of Esteban's musicianship, but "Here Comes The Sun tries so hard to sound cheerful and bright that it's almost depressing, and he turns "Fernando into a ballad so soft that it sounds more like Muzak than music.
Esteban's march through Del Shannon's prototypical rocker "Runaway energetically kicks out the jams, at least, and other tracks prove even more rewarding. His strumming and chording hands seem complete blurs in the showstopper "Fuego Malagueña, an update that burns through one of his most famous originals ("Malagueña ), at its climax pure carnival magic. "Alicante rips up the joint in a more traditional Latin jazz style, including a vibrant percussion and piano break. "Mediterana captures a very different mood. His Middle Eastern guitar sound intertwines with flute, jointly intersecting Indian and Arabic music, each note gyrating against an aggressive rhythm that pounds it right back into the incandescent melody.
"Only Love, Esteban's lone solo piece, is full of empty space and a longing for beauty so profound that it hurts.
Even though his razor-sharp, impeccably timed guitar runs almost dare your ears to keep pace, Esteban doesn't project the enormous ego of other singer/songwriter/guitarists who go by a single name (or symbol). He quite often, and quite comfortably, shares the spotlight with other soloists on these new recordings. Violin (played by his daughter, Teresa Paul) dances within the soft caress of his acoustic guitar, lost in the romance of "Besame Mucho. Trumpet players Jessee McGuire and Benjamin Paul (relation unknown) blaze to blister like Icarus the soundscapes of "Fuego Malagueña and "Alicante.
Guitar Shorty
We The People
Alligator
2006
Each summer seems to offer one song that you just crank up and bust out at the top of your stereo while you cruise in your car, sort of your summertime theme. That song, this summer, was for me the title track from this release.
One of Texas' most venerated blues guitarists, Guitar Shorty and his guitar "Red have stoked the engine room for Ray Charles, B.B. King, Guitar Slim, T-Bone Walker and countless other stars of rhythm and blues. Next year, he'll celebrate the fiftieth anniversary of his debut single. In the meantime, on his second release for one of Chicago's premier blues labels, he and Red burn white-hot and blue.
"We The People opens with a reference to the preamble of the US constitution, then stomps through a scalding electric blues about how tough it can be to just keep on keepin' on that stops just short of an open call to class warfare. Its lyrics might be funny if they didn't hit so sadly close to home, though it's almost impossible to resist smiling at, "I grab my guitar, try to bend a note/I look up at my neck and even my string's broke! But there's nothing funny at all about this raging electric blues, matched by the rough-house intensity of his lead vocal, which sounds spat out of his mouth like the hot and bitter thick taste of his own blood.
"Cost Of Livin' continues the theme of current economic and political times but reaches back into blues history, a solo electric blues where Shorty's foot stomps out the rhythm and his guitar and vocal sound metallic and dark and anguished, resurrecting the ghost of Howlin' Wolf.
We The People
also shows the influence of Shorty's Texas guitar style on such well-known rockers as ZZ Top and the Rolling Stones. The jagged riff churning within "What Good Is Life? splits the difference between the hooks to "Jumpin' Jack Flash and "It's Only Rock And Roll, and every Stones guitarist from Brian Jones to Keith Richards to Ronnie Wood has loved to play in the style of Shorty's mid-song solo, which drags rock and roll through heavy Mississippi blues mud.
The thick meaty chords and ripping hot leads of the explosive "Sonic Boom and "Can't Get Enough continue the tradition of such fine Texas roadhouse blues as "La Grange, ZZ Top's famous whorehouse song.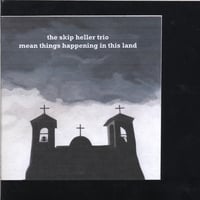 Skip Heller Trio
Mean Things Happening In This Land
Ropeadope
2006
Skip Heller seems like a pretty fun-loving guy. But this new release, from its opening cover of XTC's anti-prayer "Dear God through its concluding folksong about the closing of a Georgia mill, presents his own scathing commentary on current social, economic and political landscapes. Working with David White on drums and percussion and Chris Spies on organ, clavinet, electric piano and a "Radio Shack synth we found in his trailer, Heller sounds particularly enraged about the government's response in the aftermath of Hurricane Katrina.
His trio uses happy sounds to make this angered point. "President Nero? dances calypso on a sunlit Caribbean beach; Heller swings out soft chords to counterpoint Spies' bright solo then blasts off with extended inquisitive lines apparently in search of Pat Martino's holy guitar grail. "Heckuvajob sounds similarly carefree, with Heller's quicksilver leads stepping aside for a witty conversation between keyboards and percussion. "Katrina, Mon Amour opens in the retro surf guitar sound of Dick Dale before blasting off through a space-age guitar sound into a futuristic lounge, full of comfy fluffed-up keyboard pillows.
"Dear God shows off the variety of sounds that three musicians can coax from what might be considered a simple instrumental palette, with Spies' mid-song and closing organ solos honoring Booker T. & The MG's "Hang 'em High. Heller's ode to Ani DiFranco in soul-blues form, "The Kind Of Beauty That Moves grooves on a shimmering guitar riff that somehow sounds both hot AND cool, a bright beacon of cool blue guitar light.
Pissed though he may be, this set is not completely without Heller's trademark twisted merriment. Dig his explanation for this cover version of a Dead Milkmen song: "'Punk Rock Girl' is just one of my favorite songs about Philadelphia. I've always been a huge Dead Milkmen fan, and this song has such a great melody that I thought it would work great if we did it in the Richard 'Groove' Holmes' 'Misty' style, because that's one of the ultimate Philly templates. I know I'm a music geek, but I find it impossible to
not
love a guy who thinks and works like this!
Lenine
Lenine
Six Degrees
2006
This past August, composer/guitarist/vocalist Lenine began his first tour of the US with solo and band performances in support of this release, his American debut, which pulls together tracks from multiple sets previously released in his homeland, Brazil.
Can you tell anything from the company that a musician keeps? Seems so: Lenine is often referred to as "Brazil's answer to Prince, and his compositions have been performed by such global music legends as Sergio Mendes, Gilberto Gil and Milton Nascimento. Last year, his
In Cite
album claimed the Best CD, Best Male Vocalist and Best Song awards at Brazil's annual TIM awards, plus two Latin Grammys in the US. And although this eponymous compilation may be Lenine's US debut, his collaborators include some of world's finest Latin, Brazilian and American musicians, with whom he easily keeps pace.
"Rosebud (O Verbo E A Verba) casts him with the stellar Latin-groove ensemble Yerba Buena and the resulting sparks fly from top to bottom, from the top of Rashawn Ross' stratospheric trumpet flight down through the fatback Latin groove thumped deep in funk pocket by drummer Horacia "El Negro Hernandez, who Lenine refers to in his notes as "the heartbeat of Afro-Caribbean music.
Lenine notes, "I had the luxurious presence and help from Nana Vasconcelos and his divine percussion on their mysterious duet "Na Pressão. On another duet, "Nem O Sol, Nem A Luna, Nem Eu, Lenine plays the role of acoustic guitar and vocal bluesman while the traditional counter-part of wailing harmonica is assumed by otherworldly sighs and groans blown through conch shells by Steve Turre.
He sits in with progressive funk-rockers Living Color to kick out "The Man With The X-Ray Eyes, reshaping the theme from Roger Corman's early 1960s sci-fi classic into a growling funk workout that pulls and twists together Brazilian and rock guitar rhythms in a knot with a slippery vocal chart which suggests that Lenine has worn out several copies of Stevie Wonder's "Living For The City.
If you're searching for that special magic of acoustic Brazilian rhythm guitar, "Hoje Eu Quero Sair Só shows off some of Lenine's best chops, strumming "just so to swing the music forward while creating a relaxed feel by somehow playing from behind the beat, and so does "A Rede.
John Stein
Concerto Internacional De Jazz
Whaling City Sound
2006
You can tell from just one look that
Concerto
is serious music seriously played by serious musicians. In the cover photo, Stein presents what us folks in the cliché trade would call "a stern visage and in case you weren't certain of the program, the title informs you that this is an international concert of jazz.
Stein recorded
Concerto
in a Sao Paolo studio with his touring band during a sold-out tour of Brazil. It is not a concert of Brazilian music; it is a jazz concert played by Brazilian musicians, including a rhythm section tuned to run impeccably: pianist Alexandre Zamith, who often sings in harmony with Chick Corea's "Spanish heart, bassist Frank Herzberg, who contributes two tunes, and drummer Zé Eduardo Nazario, who Stein calls with good reason "the Elvin Jones of Brazil.
Their journey begins not in Brazil but in New Orleans as Stein calls off his own tune "Happy Hour. This blues shuffle swings from the fulcrum of Nazario's drum rolls and second-line cymbals, perfectly synchronized, bursting with music beneath the guitar and piano solos and in his own crackling solos too.
Stein next guides the ensemble down his ballad "Lonely Street, intertwined flute and acoustic guitar leading a slow romantic dance that echoes the wistful "What Are You Doing The Rest Of Your Life? "The Night Has A Thousand Eyes similarly intimates the classic "Love For Sale while demonstrating the tremendous flexibility and musicality of Stein on electric guitar, sharp playing with the tasteful taste of Jim Hall, and of his rhythm section.
Stein shows off his chops further in the simply swinging "Blues In Maude's Flat by Grant Green, slicing and dicing its groovy blues through a duet passage with funky Nazario into taut guitar licks hot and tight.
The magic of surrounding Brazil does infuse two selections: Herzberg's "Marta, described in the notes as a bossa nova in triple meter and nearly blown clean off its chart by trombone from Bocato; and Jobim's "Inutil Paisagem, a portrait of longing elegantly rendered in sad-sounding trombone, highlighted with quicksilver splashes from guitar and cymbals.
Post a comment