August 2004
Latitude
Groundtruther (Charlie Hunter, Bobby Previte & Special Guest: Greg Osby)
Thirsty Ear
Three world-renowned jazz musicians and experimentalists coalesce for an album constructed upon funk beats, spacey synths and jazz inflected improv. It's the first of a proposed trilogy where guitarist Charlie Hunter and drummer Bobby Previte will add a special guest to each outing. Saxophonist Greg Osby rounds out this congenial program, brimming with a potpourri of jam grooves and outlandish, yet palatable concoctions.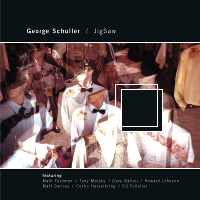 JigSaw

George Schuller

482 Music
Drummer George Schuller once again adorns the listener's psyche via this multifarious engagement. This production features violinist Mark Feldman, trumpeter Dave Ballou, and an amalgamation of innovative New England and New York City modern jazz artistes. Marked by turbulent horn charts, odd-metered rhythms and fiery soloing, Schuller's fertile compositional escapades offer an abundance of interesting propositions. He's the traffic cop throughout. Ultimately, this is modern jazz that is firmly rooted within intricately executed harmonic structures. Schuller's freethinking demeanor proves that chance-taking can sometimes yield positive results.


Balacobaco

Thomas Clausen Brazilian Quartet and Friends

Stunt Records
Pianist/composer Thomas Clausen is a prolific Danish artist. He's internationally recognized for his solo work and collaborations with jazz stars such as Dexter Gordon and Johnny Griffin. What makes this amicable, Brazilian-spiced outing so unique is the addition of harpist Tine Rehling to augment a nonet consisting of a rhythm section, woodwinds, and viola. The music is cheery, breezy and eloquently performed, yet quietly powerful. It's refreshing and slightly nouveau in scope.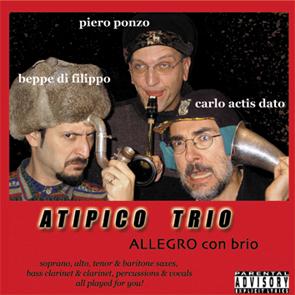 Allegro con brio

Atipico Trio (Carlo Actis Dato, Piero Ponzo, Beppe Di Filippo)

Leo Records
The three multi-reedmen literally kick up a storm here. They traverse diverse paths via complex unison parts, wacky verse, and serious improvisational episodes. Some of the clowning around wears a bit thin on repeated spins, but the effort is loaded with unexpected twists, turns, and hardboiled blowing. Dato is perhaps the better known of the three due to his active and quite prolific solo career, to complement his ongoing work with the Italian Instabile Orchestra. Regardless, this recording signifies a dynamic encounter of like-minded musicians.



Jet Propelled Photographs

University Of Errors

Cuneiform Records
Vocalist/guitarist Daevid Allen (Soft Machine, Gong) leads his ensemble through a revved up, prog-rock musical journey featuring remakes of vintage Soft Machine tunes. Overall, this is a warm-hearted and very likeable outing, featuring psychedelic guitar parts and swift time changes. The quartet covers pieces by British prog icons such as Robert Wyatt, Kevin Ayers, Hugh Hopper and Brian Hopper—all one-time Soft Machine participants. Allen's boyish charm provides an air of innocence. And while the musicians rock out and occasionally jam into the stratosphere, it's a fun-filled jaunt.


The Owner Of The River Bank

Cecil Taylor & Italian Instabile Orchestra

Enja Records
This CD should garner quite a bit of interest. However, it is not as frantic or intense as some might assume. Pianist Cecil Taylor guides the band with motifs while periodically interrupting the various musical processes with flickering runs across the keys. One of his motivations was to enable the orchestra musicians to interpret the music and reshape it into various patterns and hues. Ultimately, the band works within a slight sense of the unknown amid shifts in strategy. Taylor affords the soloists room to breathe and invent here. It's not one of the great pianist's milestone recordings, but a compelling offering nonetheless.


Flamingos

Max Nagl - Otto Lechner - Bradley Jones

hatOLOGY
Max Nagl (saxophones), Otto Lechner (accordion, piano & voice) and Bradley Jones (bass) render these ten tracks with an effervescent flair, marked by chirpy rhythms and an obvious ease of execution. Multicolored in scope and topped off by spirited exchanges and improvisations, Nagl and Lechner loom as near perfect foils here. Whether they are rendering quaint, melodic choruses or soaring into the red zone, the program imparts yet another perspective of the jazz vernacular. Check out the witty and revved up trio version of Charles Mingus' "Work Song/Haitian Fight Song," for example. Thrills a minute here...


Live At The Village Vanguard

Uri Caine Trio

Winter & Winter
Pianist Uri Caine is at the forefront of third stream type classical-jazz forums given his impressive and highly acclaimed slants on classical composers such as Mahler. But we must not forget that Caine's piano trio endeavors are generally rousing, inventive and sometimes slightly left-of-center. His latest, recorded live at New York City's famed jazz venue, is a power-packed expose featuring bassist Drew Gress and drummer Ben Perowsky. Not avant-garde by any stretch of the imagination, but here Caine explores contrasting angles, rhythmic contours, and excitable dialogues with his bandmates. Through it all, the band is tight, hip and highly focused. The trio's swiftly engineered movements and sinuous flows serve as the underlying frameworks for a largely high-flying improvisational element.


Reunion

Art Ensemble Of Chicago

Around Jazz (Art Ensemble of Chicago website)
This Art Ensemble of Chicago reunion set was recorded in Rome on January 22, 2003. And as we lament the recent passing of bassist Malachi Favors, this affair does suggest a jubilant outlook. Favors and drummer/percussionist Don Moye launch the proceedings with a sparkling percussion motif titled "Illinstum." However, saxophonists Roscoe Mitchell and Joseph Jarman partake in lyrically rich soloing endeavors amid some truly inspiring exchanges throughout! Once again, AEC embarks upon a celebration of the musical spirit that defies barriers or stereotypical implications.


Tim Berne - Marc Ducret - Tom Rainey

Big Satan - Souls Saved Hear

Thirsty Ear
There aren't many viable sax-guitar-drums units these days, but few if any match the sheer intensity parlayed by this lot. Saxophonist Tim Berne and drummer Tom Rainey display uncanny intuitiveness via abrupt stops, starts, and winding shifts in strategy, as guitarist Marc Ducret often heralds in the fire and brimstone factor. Berne's climactic and somewhat ominous phrasings can send tingles down one's spine. Like a fast-paced motion picture, the trio renders thrills a nanosecond with this strapping effort.


QUICK PICKS


Illuminations

McCoy Tyner with Gary Bartz, Terence Blanchard, Christian McBride & Lewis Nash

Telarc
Pianist McCoy Tyner's latest features an all-star cast. No major surprises, but the band swings, bops and gets the job done in a straightforward, mainstream jazz-like fashion. Strong soloing, as one might anticipate, is an added plus.


Twenty Year Blues

Nashville Bluegrass Band

Sugar Hill Records
The quintet purveys a traditional, good-timey type bluegrass vibe, including a down home country feel on Lonnie Carter & Walter Jacobs' classic blues number, "Sitting On Top Of The World."


Sharkey's Machine

Sharkey

Baby Grande
Sharkey is his name, and turntables, programming, percussion comprise part of this machine. It's asymmetrical parts urban hip-ness, funk, rap, electronic jungle beats and an altogether refreshing 'tude. It's wildly entertaining...


The Raging Fire

Seventh Key

Inside Out Music
Kansas bassist/vocalist Billy Greer spearheads this upfront progressive rock venture, featuring hard driving rhythms and a few memorable tunes dispersed throughout. The album title serves as a good indicator for the quartet's game plan.


To Music

Jim Robitaille Group

Whaling City Sound
Guitarist Jim Robitaille's guitar artistry should—at the very least—appeal to fans of Pat Metheny and Kurt Rosenwinkel. Featuring sax hero Dave Liebman, the quintet perpetuates a breezy vibe, coupled with a quietly ferocious temperament. The guitarist's melodically tinged compositions provide a solid underpinning. Hence, this album should rank as one of the unanticipated delights of 2004.


Line Ish

Tony Bianco - Dave Liebman - Tony Marino

Emanem
Saxophonist Dave Liebman puts on his free jazz hat for this powerful trio release. Drummer Tony Bianco is a relentless whirlwind while Tony Marino provides the axis for an intense session that intimates notions of how free form art is capable of making perfect sense.


A Tribute To Creole Zydeco

Creole Bred

Vanguard Records
The latest installment from Vanguard Records features popular artists delving into Louisiana-rooted Zydeco music. It's nicely produced, joyous and festive. Contributors include Taj Mahal, Cyndi Lauper and Michelle Shocked, among others.
Post a comment