Extended Analysis
Anthony Braxton/Andrew Cyrille: Anthony Braxton & Andrew Cyrille: Duo Palindrome 2002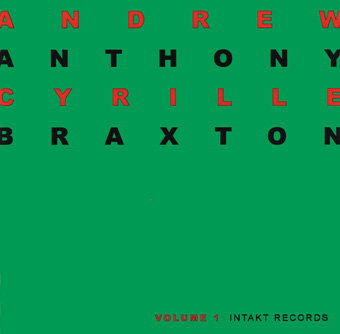 Anthony Braxton/Andrew Cyrille
Duo Palindrome 2002, Vol. 1 & 2
Intakt Records
2004
Even before he started wearing baggy corduroys, sensible shoes, and sweaters with elbow patches, Anthony Braxton's image was one of the enigmatic intellectual. You had to expect his playing to be more geometric than gutbucket. In a meeting at Wesleyan University (where Braxton is on the faculty), however, he and Andrew Cyrille make music that turns that image on its ear. Perhaps the responsibility is Cyrille's, the most instinctively musical of the "New Thing" drummers, whose playing in any setting is subtle, orchestral, swinging and energetic. But if the question becomes who is really playing in who's yard, whether Braxton is moving a little closer to the mainstream, or whether Cyrille is flexing his avant-garde muscles, over the course of this two-disc 100-minute concert the revealed answer is that they meet somewhere in the middle.

Only four of the fifteen improvisations here approach or exceed ten minutes, so the pieces are varied enough and brief enough not to wear out their welcome. And while Cyrille is virtuosic, Braxton, who plays every contra- and supra- version of every horn in the reed family, solos on alto, soprano, clarinet and what sounds like bass sax. On Braxton's own "Composition No. 311," he moves from soprano to bass while Cyrille maintains a fairly steady rhythm. On "Sound Relations," Cyrille claps, slaps, and plays his face (along with the drums) while Braxton blows short runs and fiddles with his mouthpiece. "Interlacing" is quiet, and the subsequent "Celestial Gravity" is quieter, offering gossamer cymbal shimmers and tiny squeaks. A little melody creeps into "Quickened Spirits," and on "Effluence," Cyrille's evocative malletry supports lovely clarinet soloing.

Intimately recorded to the point where you can hear Braxton draw breath, the most accessible and impressive tracks are from Cyrille's pen. "Water, Water, Water" has a jungle beat, "Excerpt from Navigator" features a military drumroll and Braxton's startling bass sax, and on "The Loop," Cyrille rests some beads on his hi-hat for added texture. These CDs are essential for fans of great modern drumming, sax-drum duos, or those who don't know where to start in the Braxton body of work. And on Cyrille's "Dr. Licks," Braxton even gives you a little gutbucket.



Track listing:


Duo Palindrome 2002, Vol. 1 — 1. Duo Palindrome 2002 [4:30]; 2. The loop [5:35]; 3. Interlacing [4:32]; 4. Celestial Gravity [2:45]; 5. Quickened Spirits [4:47]; 6. Effluence [4:21]; 7. Composition No. 310 (Braxton) [11:47]; 8. Ascendancy [11:36].
Duo Palindrome 2002, Vol. 2 — 1. Water, Water, Water [5:28]; 2. Dreams Alive... Concretize [4:28]; 3. Excerpt From the Navigator [4:55]; 4. Sound Relations [9:13]; 5. Composition No. 311 [10:15]; 6. Dr. Licks [7:30]; 7. A Musical Sense of Life [6:50]. Both volumes recorded October 26, 2002 at Wesleyan University, Middletown, CT (USA).


Personnel: Anthony Braxton: reeds; Andrew Cyrille: drums.
Personnel
Anthony Braxton: reeds; Andrew Cyrille: drums.
Album information
Title: Anthony Braxton & Andrew Cyrille: Duo Palindrome 2002 | Year Released: 2004 | Record Label: Intakt Records
Post a comment about this album