Evelina Petrova: Year's Cycle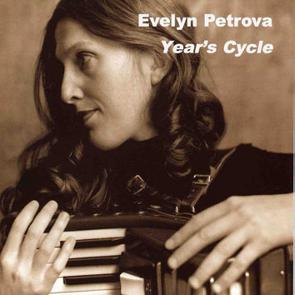 The accordion is not exactly the most popular instrument in improvised and new music, but there
are
proponents, including Guy Klucevsek and Norway's Frode Haltli. Now add to that list Russian accordionist/vocalist/composer Evelina Petrova who, with
Annual Circle
, delivers an intriguing blend of Indian, Balkan and Russian folk traditions, with a hint of art house thrown in for good measure.
In the past seven years Petrova has emerged on the Russian scene, playing in duos with trumpeter V. Gayvoronsky and cellist Victor Sobolenko. She has appeared at a number of festivals in Austria, Holland, France, England, Finland, Germany and Italy. Her goal appears to be marrying ethnic folk traditions with the more improvisational nature of modern jazz.
With Annual Circle she presents twelve pieces based on the Russian National Calendar. The pieces traverse a lot of territory. From the pastoral "December - A Piece of Field," which makes an argument for the cross-pollination of music from Eastern Europe to the British Isles, to "February - Wintry," where she pulls almost ambient-like nature sounds from her instrument; from the melancholy "April - Lullaby" to the joyous "May - Circular Dance," Petrova's program is diverse enough to keep things interesting despite the apparent uniformity of the instrument.
Her vocal contributions are equally varied. From the percussive and guttural work on "July - Dunia-Fool," where she brings to mind Art Bears and Henry Cow alumnus Dagmar Krauss, to "August - Form Ears," which presents a contrast between soft lyricism and more aggressive chanting, she demonstrates a strong, if not always attractive, vocal ability.
Petrova is clearly an accomplished performer with technique to spare. She has taken an instrument that suffers from a somewhat limited reputation and builds a set that is interesting and varied, although not always successful at being completely captivating. Some of the more abstruse pieces, specifically "September - Funeral of Mosquito," are perhaps a little too considered for their own good, with plaintive wailing that doesn't quite reach the heart.
Still, Petrova's compositions provide ample evidence that the accordion can deliver a broad spectrum of sound and texture. Annual Circle may not always succeed, but it does more often than not, and is well worth a listen from those interested in hearing how traditional folk music can be combined with new music and improvisation.


For more information on Evelina Petrova, visit Chonyi Duo on the web.
Track Listing
December - A Piece of Field; January - Christmas Tide; February - Wintry; March - Skomorohi; April - Lullaby; May - Circular Dance; June - Walk; July - Dunia-Fool; August - Form Ears; September - Funeral of Mosquito; October - Wedding; November - Sit-round Gatherings.
Personnel
Evelina Petrova: accordion, vocal.
Album information
Title: Year's Cycle | Year Released: 2004 | Record Label: Leo Records
Post a comment about this album