David Weiss & Point of Departure: Wake Up Call
BY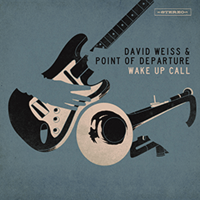 Trumpeter David Weiss incorporates a heavy-duty guitar assault into this exhilarating program designed with a diverse track-list, comprised of originals by jazz luminaries Wayne Shorter, Joe Henderson, John McLaughlin and Tony Williams among others. The trumpeter's Point of Departure ensemble generates a neo-jazz fusion panorama, coupled with an emphatic integration of progressive jazz amid references to bop and a few excursions into the outside realm. Besides the triad of outstanding guitarists, Weiss yields a big payout from all-star saxophonists Myron Walden and J.D. Allen also appearing on select tracks.
The band launches the festivities with guitarist John McLaughlin's Mahavishnu Orchestra piece "Sanctuary," augmented by guitarist Travis Reuter's nimbly plucked ostinato phrasings, complemented by effervescent horns and drummer Kush Bradley's sweeping press rolls. Here, Walden's soaring lines insinuate Mahavishnu's intensifying gait as guitarist Ben Eunson commandeers soloing activities and basically tears it up as the group marches towards the finale. But Henderson's "Gazelle" is a tour de force for Weiss and Walden who uplift the primary theme with hearty improvisational segments while singing the melody line in unison along with Eunson, leading to a rather focused rampage during the bridge.
Weiss and associates spin one-time Blue Note Records artist, bop pianist Kenny Cox' "Sojourn" into a dynamo, built on variable cadences and the rhythm section's punishing jaunts, abetted by Reuter's edgy crunch chords. And they close out the program with Williams' "The Mystic Knights of the Sea"—performed with the chutzpah and impact most of us would expect via spirited horns choruses and Abadey's lyrical upfront drumming, built on snappy snare hits and rippling cymbals swashes. Sure enough, Weiss and his ensemble take the listener on a whirling journey, anchored by oscillating currents and hard-hitting escapades, equating to an album underscored with alluring qualities.
Track Listing
Sanctuary; Two Faced; Multidirection; Noh World; Gazelle; Sojourn; Pee Wee; Sonhos Esquecidos (Lelo Nazario); The Mystic Knights of the Sea.
Personnel
David Weiss: trumpet, Fender Rhodes (1,5); Myron Walden: tenor sax (1, 5-9); J.D. Allen: tenor sax (2-4); Ben Eunson: guitar, solos (1, 5, 7, 9); Travis Reuter: guitar (1, 5-9) solos (6, 8); Nir Felder: guitar (2-4), solos (3, 4); Matt Clohesy: bass; Kush Abadey: drums.
Album information
Title: Wake Up Call | Year Released: 2017 | Record Label: Ropeadope
Post a comment about this album