Mat Maneri: Trinity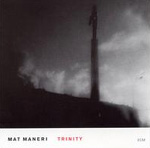 Listening to Mat Maneri's solo outing
Trinity,
one often finds one's imagination working overtime. The 32 year old violinist, son of jazz legend Joe Maneri, explores his unique vision of free chamber jazz without the aid of collaborators—leaving wide-open spaces for the listener to fill in.
Maneri, a child prodigy, began a classical career only to abandon it to follow his interests in improvisation. During the mid-'90s, he made classic records on ECM and Leo with his father. His work with Joe Morris, Matthew Shipp, and others has also received critical attention. Last year's quartet record Blue Decco was a brilliant amalgam of improvisation and folkloric music.
On Trinity, Maneri takes cues from John Coltrane and Eric Dolphy. Like these two masters of outer design, Maneri maintains an overriding logic throughout each composition. His solo improvisations often suggest harmony and rhythm without stating them explicitly. Maneri, who has plugged in on previous records, sticks to an all-acoustic sound on the violin and viola. His cover of John Coltrane's "Sun Ship" leaves echo traces of Elvin Jones's muscular drumming and McCoy Tyner's keyboard prance in its moments of silence. Maneri's improvisation suggests much more than it states, drawing upon the listener's memory and peripheral vision. On Dolphy's "Iron Man," Maneri boldly explores the possibilities of his instrument, mirroring Dolphy's extended saxophone techniques. He frequently plays several lines at once, extending his harmonic and melodic range. The organic freedom of Maneri's playing on Trinity reveals the source of his energy: the architecture of composition combined with judicious use of space. Trinty is an admirable album of thoughtful and inspired improvisation.
Track Listing
Pure Mode; Almost Pretty; Trinity; Sun Ship; Blue Deco; Veiled; Iron Man; Lattice; November 1st; Lady Day
Personnel
Mat Maneri
Album information
Title: Trinity | Year Released: 2001 | Record Label: ECM Records
Post a comment about this album