Take Five with Bridget Cimino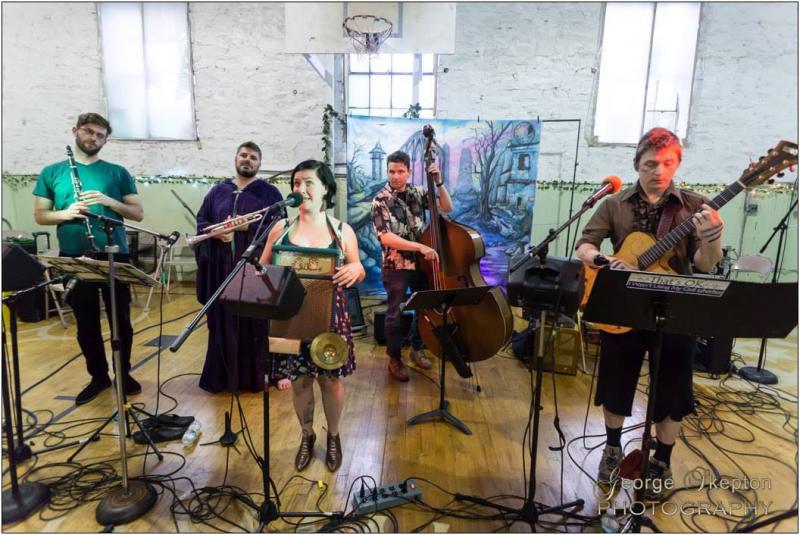 By
About Bridget Cimino
Bridget Cimino is a Baltimore-based traditional music vocalist and visual artist. She co-leads the popular band Tongue in Cheek with bassist and banjo player Zach Serleth. (The group is releasing their album
Mobtown Strutters Ball
November 4, 2016 at the Creative Alliance in Baltimore.) Paying tribute to
New Orleans
jazz, their first recording and many live performances feature tunes composed from 1910 to the mid 1930's. Cimino and Serleth are known to create events in which the audience is invited to attend in period costume. Often, as in many bygone eras, dancing is encouraged. The couple has helped create a strong trad jazz scene in Charm City and continue to explore traditional jazz genres, re-discovering long-forgotten songs and reinventing old favorites.
Instrument(s):
Voice/Kazoo
Teachers and/or influences?
I am self-taught, spending countless hours singing along with the stereo or the radio while commuting. As a child, I used to love singing Disney songs, songs from West Side Story and
The Sound Of Music
, and my father's Civil War Music. As an adolescent, I moved on to grunge, then punk, and then I opened up my tastes to include pretty much every genre. As far as jazz, I love The Boswell Sisters, Freddy Taylor, Lee Morse.
I knew I wanted to be a musician when...
When I started to see live bands. I wanted the attention that comes with being a performer.
Your sound and approach to music.
I love songs that are dramatic and fun. I try and act out the emotions that the song suggests while trying variations in the melody. I really want people to enjoy a performance, to feel like they are being entertained.
Your teaching approach
I am a terrible teacher! I think it's because I was never taught myself. I have no idea how to explain to a person how to reach a note, or how to breathe correctly. I really respect teachers for what they do, because teaching takes additional skill and knowledge on top of the skill they are teaching.
Your dream band
Me, Weird Al on accordion, Paul Simon on guitar, Zach Serleth on bass, Billy Joel on piano, and a drum machine.
Road story: Your best or worst experience
We had a gig playing live music for an ice rink, and the rink was closed because the Zamboni was broken. We still had to play outside in the freezing cold for three hours! I at least don't use my hands to sing. All the other musicians were suffering.
Favorite venue
Well, we have played in some really great places around Baltimore, but Liam Flynn's Ale House is the spot where every other Sunday, our band gathers together and invites non band members to join us for a Trad Jazz jam! It's fun, and the fact that there are people at the bar just listening and applauding makes it kind of like a gig. It's a great excuse to try out new material and get a few practice hours in. I am glad there are places like Liam's around where people can share their love of music together.
Your favorite recording in your discography and why?
Well, it would have to be
Mobtown Strutters Ball
because it is our one and only. But it is a really fun album, and I hope to make many more that are even better in the future.
What do you think is the most important thing you are contributing musically?
I think that I bring a lot of personality to the band. I like to ham it up and be dramatic. People want to be charmed and engaged with the band. I try to keep it interesting between songs, and I provide the classic lyrics that people identify with.
Did you know...
I am a great cook!
The first jazz album I bought was:
The Boswell Sister's Greatest Hits
Music you are listening to now
Echoes of A Songbird: 50 Recordings from 1924-1930
Lee Morse: Jasmine
The Boswell Sisters Collection
Boswell Sisters: Storyville
Desert Island picks
Paul Simon: Graceland (Warner Bros)
The Postal Service: Give Up (Sub Pop)
Billy Joel: The Greatest Hits (Columbia)
How would you describe the state of jazz today?
I think there is a lot of great experimentation, and I think there are a lot of people discovering the old styles and putting a new twist on them.
What are some of the essential requirements to keep jazz alive and growing?
I believe we have to introduce it to children in a fun way. We must keep the influences showing in all our new music. People will always look to the past when making new music.
What is in the near future?
We are about to release our first album,
The Mobtown Strutter's Ball
. We will be having a fabulous album release party at The Creative Alliance in Highlandtown, Baltimore. It's a costume party! We are inviting guests to come dressed in their favorite vintage outfit and dance the night away with us! We are also playing at The Baltimore Oyster Festival on November 4 th and Germano's Dinner Theatre November 13th.
What is your greatest fear when you perform?
Being off key.
What song would you like played at your funeral?
"Hungerstrike," by Temple of the Dog.
What is your favorite song to whistle or sing in the shower?
"Hopelessly Devoted To You" by John Farrar, first sung by Olivia Newton-John in the musical, "Grease."
By Day
By day, I paint murals, do decorative painting, and restore old artwork.
Post a comment
---
FOR THE LOVE OF JAZZ
All About Jazz has been a pillar of jazz since 1995, championing it as an art form and, more importantly, supporting the musicians who create it. Our enduring commitment has made "AAJ" one of the most culturally important websites of its kind, read by hundreds of thousands of fans, musicians and industry figures every month.
WE NEED YOUR HELP
To expand our coverage even further and develop new means to foster jazz discovery and connectivity we need your help. You can become a sustaining member for a modest $20 and in return, we'll immediately hide those pesky ads plus provide access to
future articles
for a full year. This winning combination will vastly improve your AAJ experience and allow us to vigorously build on the pioneering work we first started in 1995. So enjoy an ad-free AAJ experience and help us remain a positive beacon for jazz by
making a donation today
.
Instrument: Voice / vocals
Article Coverage
|
Calendar
|
Albums
|
Photos
|
Similar Artists