Results for "Swing State"
Album
By Ben Sidran
Label: Nardis
Released: 2022
Track listing: 1. Lullaby of the Leaves 05:19 2. Swing State 06:10 3 Laura 05:35 4. Ain't Misbehavin 04:53 5. Stompin' at the Savoy 04:49 6. Somewhere Over The Rainbow 04:00 7. Tuxedo Junction 05:09 8. Laura - Alt Take 05:57
News: Recording
Sixty years into a wildly accomplished career that counts music as only the foremost of many aspects, Ben Sidran takes yet another new direction with the September 16 release of Swing State (Bonsai/Nardis). Long known for his lively, bluesy singing style (in the vein of his mentor Mose Allison), the 78-year-old finally gives his vocal cords ...
Album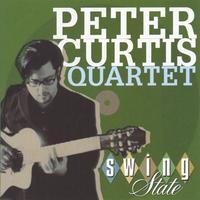 By Peter Curtis
Label: Unknown label
Released: 2006