Results for "Sounds of the City"
Album
Label: HJQ Records
Released: 2004
Track listing: Speed Trap, Ole Buddy, Rembrance, Hibiscus Drive, Deanna, Keahi, Mt. Fuji, Heater's On, Cozumel Breeze, Woody's Blues
Album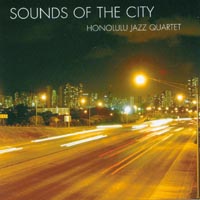 By John Kolivas
Label: HJQ Records
Released: 2004
Article: Album Review
by Dan McClenaghan

Figure in all the innumerable ensemble configurations possible in jazz, and a soft spot still clings to my heart for the well-rendered quartet outing, saxophone and a rhythm section playing straightforward mainstream jazz. The Honolulu Jazz Quartet's Sounds of the City delivers just that.Bassist John Kolivas leads the guartet, which has been together since ...