Results for "Nicki Denner"
Musician
Born:
Pianist/composer/arranger Nicki Denner has been a part of the New York Latin and jazz music scene since 1999. Before that, she was an active member of the Minneapolis music community for 10 years. She has performed with Sheila E., Savion Glover, Candido, Doc Severinsen, Andrea Brachfeld, Bobby Sanabria, Harvie S., Ray Vega, Pedro Martinez, Manolo Badrena, John Benitez, the New Jersey Tap Ensemble, as well other jazz and salsa artists in the United States and Europe. Since 2001, she has led her own trio which features Jennifer Vincent on bass, and Willie Martinez on drums. In 2006, the trio released their debut recording, Moliendo Café, which was named one of the "Top Ten Picks of 2006" in Latin Beat Magazine. Ms
Article: Take Five With...
by Edward Palermo

Meet Ed Palermo Ed Palermo is an arranger, composer and alto saxophonist mostly known for his big band and their interpretations of the music of Ed's hero, Frank Zappa. Coming out of college in jny: Chicago, his initial plan was to become a great jazz tenor saxophonist in the vein of Michael Brecker, Steve Grossman and ...
Album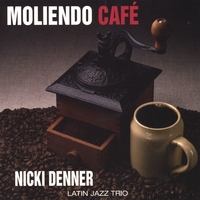 By Nicki Denner
Label: Self Produced
Released: 2006