Results for "Mavis Swan Poole"
Musician
Born:
Crowned "Little Ellla" by the great Curtis Fuller, and guilty of inspiring people to sing because of God-given creativity, Singer/Songwriter/Composer Mavis 'SWAN' Poole is stirring up the music scene as we know it. She possesses an unrivaled brilliance of shattering barriers with her rich and smoky sound, undauntedly amalgamating jazz, R&B, soul, funk and hip hop. Swan is a sassy, soulful, fiery SongBird (which is the literal translation of MAVIS) whose music promises to stand the test of time. "Bull City's" finest was born and raised in Durham, North Carolina, where she attended the very prestigious North Carolina Central University
Article: Album Review
by Jeffrey Uhrich

In his follow-up to his well-received debut release Breaking the Ice (2012, PJC Records), guitarist Eric DiVito's sophomore album The Second Time Around is a satisfying display of DiVito's dazzling abilities as a musician. With an impressive trio comprised of Corcoran Holt on bass and Alyssa Falk Verheyn on drums, DiVito provides the listener ...
Album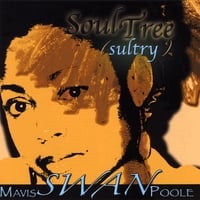 Label: Swanbean Records
Released: 2009