Results for "Jose Bowen"
Results for pages tagged "Jose Bowen"...
Musician
Born:
José Antonio Bowen is Dean of the Meadows School of the Arts and Professor of Music at Southern Methodist University. Bowen began his teaching career at Stanford University in 1982, first as the Director of Jazz Ensembles, and then for the Humanities Special Programs and the Afro-American Studies Program. In 1994, he became the Founding Director of the Centre for the History and Analysis of Recorded Music (C.H.A.R.M.) at the University of Southampton, England. He returned to America in 1999 as the first holder of the endowed Caestecker Chair of Music in the new Program in the Performing Arts at Georgetown University
Album
Label:
Released: 2009
Track listing: 1. Preparandosi a partire - 2:26; 2. In viaggio verso il fronte - 3:51; 3. In trincea, attesa - 3:50; 4. Il nemico - 2:38; 5. Appostamento, attacco, morte - 5:31; 6. Assalto - 3:12; 7. In trincea con la morte - 1:09; 8. Requiem (resistenza sul Piave) - 5:40; 9. Contrattacco - 5:02; 10. Dolore e pietà: superstiti, prigionieri - 7:01; 11. La guerra è finita, silenzio - 7:44; 12. Ritorno alla pace - 3:07; 13. Inno alla fratellanza - 2:24; 14. A chi non è tornato - 2:14; 15. Just a Gigolò - 5:52. Musica di Claudio Cojaniz, escluso 15, di Caesar/Casucci.
Article: Album Review
by AAJ Italy Staff

Nell'estate del 2008, in un cinema all'aperto di Pordenone su iniziativa dell'associazione culturale Cinemazero, prese vita un'idea di Flavio Massarutto e Riccardo Costantini: la proiezione di alcuni documentari sulla I Guerra Mondiale ritrovati nella Cineteca del Friuli, con commento musicale dal vivo. L'iniziativa era tanto interessante storicamente e socialmente, quanto toccante artisticamente, anche in considerazione del ...
Album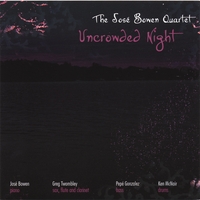 By Jose Bowen
Label: CrossOver Music
Released: 2006