Results for "Johnny Conga"
Musician
"JC" Johnny Conga, a Volcano Percussion endorsee, has been performing for 45 years, as a "multi-percussionist-specialist", in the Art of Afro-Caribbean Drumming, and Latin-Jazz music. Some of the Artists that "JC" have worked with cover the gamut of "styles" in the music business. Here is a short list: Sergio Mendes & Brasil 77, Paquito D'Riviera, The Jackson 5, Willie Bobo, Mongo Santamaria, Cerrone(France), Gloria Gaynor and over 100 other major artist's in the United States and abroad. To date Johnny has been in 150 bands and has done 17 International tours all around the world. Grammy Member (Pacific Northwest chapter)-"Latin-Rep" Member of BMI as composer/arranger Member of N.A.R.A.S
Album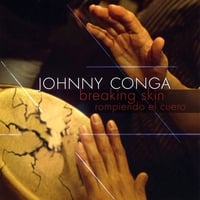 By Johnny Conga
Label: Self Produced
Released: 2009
Article: Album Review
by Raul d'Gama Rose

Johnny Conga comes from a long line of illustrious tumbadora (conga) players. From the musical evidence on Breaking Skin, this genealogy may begin with the likes of Chano Pozo, Mongo Santamaria, Tata Guines, Candido, Armando Peraza and Francisco Aguabella. Lest there be a scream of "blasphemy," it bears mention that Conga stylistically connects the ancient with ...