Album Review
Marilyn Scott: Standard Blue
By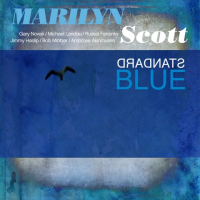 Vocalist Marilyn Scott is not a new name in music. She has released 14 recording since the late 1980s, including the present
Standard Blue
. It is odd, then, that she has had so little coverage in these pages. George Harris wrote a revealing piece on her 2006 release,
Handpicked
(Prana Entertainment), but that is about it. A versatile artist, Scott has been able to exist, multidimensionally, across multiple genre, which has proven to be her charm. She does something very effective and special on
Standard Blue
, including the bulk of the original Yellowjackets plus
Ambrose Akinmusire
in doing so.
Joined by keyboardist
Russell Ferrante
, bassist
Jimmy Haslip
, guitarist
Michael Landau
,and winds player
Bob Mintzer
(who plays solely bass clarinet here), the core of the Yellowjackets is well represented, bringing with them a contemporary mindset honed to a fine artistic edge. Ferrante handles the arrangement duties, with Mintzer adding his horn arrangement to the sleekly stylized, "Speak Low." Which brings us to what is special, even exceptional, about this recording. Scott addresses nine standards and one original cast very differently from most "standards" recordings.
Ferrante is very forward thinking, putting the contemporary spin he was famous for with the Yellowjackets to work here. Spatial and clever, Ferrante's arrangements incorporate cross-rhythms and time signatures in provocative and delightful ways. "Willow Weep for Me" is airy and ethereal with plenty of space. Scotts voice is certain and assured throughout the recording. Outstanding instrumentally was guitarist Landau, whose solo on the Strayhorn/Ellington "Day Dream" (composed in 1941!) is a revelation in translation. The most effective updating of a tune is the
Starwars
spin the group puts on
Fats Waller
's 1937 "The Joint is Jumpin.'"
Track Listing
Willow Weep for Me; Speak Low; A Flower is a Lovesome Thing; Never Let Me Go; Day Dream; Blue Prelude; I Wouldn't Change It; East of the Sun; I've Got It Bad and That Ain't Good; The Joint is Jumpin'
Personnel
Marilyn Scott: vocals; Gary Novak: drums; Michael Landau: guitar; Russell Ferrante: keyboards; Jimmy Haslip: bass; Bob Mintzer: bass clarinet; Ambrose Akinmusire: trumpet. Produced by Jimmy Haslip, Erik Zobler and Marilyn Scott
Album information
Title: Standard Blue | Year Released: 2017 | Record Label: Prana Entertainment
---
FOR THE LOVE OF JAZZ
All About Jazz has been a pillar of jazz since 1995, championing it as an art form and, more importantly, supporting the musicians who create it. Our enduring commitment has made "AAJ" one of the most culturally important websites of its kind, read by hundreds of thousands of fans, musicians and industry figures every month.
WE NEED YOUR HELP
To expand our coverage even further and develop new means to foster jazz discovery and connectivity we need your help. You can become a sustaining member for a modest $20 and in return, we'll immediately hide those pesky ads plus provide access to
future articles
for a full year. This winning combination will vastly improve your AAJ experience and allow us to vigorously build on the pioneering work we first started in 1995. So enjoy an ad-free AAJ experience and help us remain a positive beacon for jazz by
making a donation today
.
Instrument: Voice / vocals
Article Coverage
|
Calendar
|
Albums
|
Photos
|
Similar Artists
Post a comment about this album