September 2004
By
Cha Cha With The Hellboys
The Hellboys
Hellboys
This independent release highlights the compositions of vocalist/guitarist Thomas Redmond. But it's more or less a union of the King Crimson crowd, featuring guitar hero Robert Fripp's soundscapes patented electronics on selected tracks. King Crimson bassist and fabled session man Tony Levin handles the bottom end chores, along with the California Guitar Trio and others. Ultimately, Redmond's tongue-in-cheek lyricism and the band's electro-acoustic guitar based passages translate into a highly entertaining brew. Just think of what might happen when a bunch of highly regarded progressive rockers set out to enjoy a bit of fun and frolic in the studio. Sure, they let their hair down, but the melodically centric comps, coupled with blithe lyricism all stacks up rather nicely. But it's clearly Redmond who provides the devilish sensibilities here, thanks to his downright witty and hilarious verse on selected tracks.


Oleo

Joe McPhee - Po Music

hatOLOGY
The Swiss progressive jazz record label hatOLOGY commenced under the Hat Hut moniker back in the '70s. In fact, it all started as a launching pad of sorts for New York-reared saxophonist/trumpeter Joe McPhee. This reissue from 1982 includes previously unreleased material lifted from a live concert, performed on the evening of the daytime session. Here, McPhee uses a pocket trumpet and tenor sax, sparking an affable union with clarinetist/alto saxophonist Andre Jaume. Raymond Boni's phased out, electric guitar work provides a progressive rock touch, especially during the quartet's spunky, free bop takes on Sonny Rollins' "Oleo." Regardless, this outing signifies McPhee's "Po Music" mindset that incorporates somewhat of an existential approach.


America 2003

Evan Parker - Alexander Von Schlippenbach - Paul Lytton

Psi Records
This two-CD modern improv extravaganza signifies sides recorded during the trio's 2003 Stateside tour, featuring extended pieces culled from performances in New Orleans and Seattle. Ultimately, these modernists improvise with uncanny sensibilities, yet should we expect anything less? Sax hero Evan Parker's circular breathing diatribes spark notions of a pianist rendering a whirlwind of chord clusters. Pianist Alexander Schlippenbach and percussionist Paul Lytton dish out a buoyant, polyrhythmic foundation that sometimes acts as a crosswind for Parker's Herculean passages. Overall, the respective artists receive ample soloing spots. But they make it sound so effortless and uninhibited. Another viewpoint firmly resides within the fact that they clearly distinguish the professionals from the amateurs throughout these often mind-bending series of works.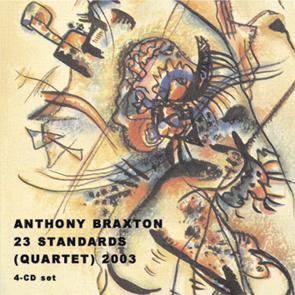 23 Standards (Quartet) 2003

Anthony Braxton

Leo Records
Leo Records has deemed this gem as a limited edition production, limited to 1000 copies. To that end, sax hero/composer and modern jazz acolyte Anthony Braxton leads his quartet through twenty-three standards, ranging from bittersweet balladry to up-tempo swing and bop grooves. Drummer Kevin Norton and bassist Andy Eulau provides Braxton and guitarist Andy Eulau with an unblemished flow throughout. Much like the quartet's previous standards outing on Norton's Barking Hoop Records, these live recordings feature Braxton attacking old time favorites such as "Tangerine" and "Giant Steps," with fluttering passages. The band's lighter than air approach is offset by vigorous soloing and an overriding sense of buoyancy. An added treat here pertains to guitarist Kevin O' Neil's lightning fast lines and vigorously executed chord progressions.



QUICK PICKS


Focus on Stan Getz: Live at Severance Hall

Ernie Krivda

Cadence Jazz Records
Cleveland, Ohio sax legend Ernie Krivda recorded this personalized spin of Eddie Sauter and Stan Getz' classic Third Stream outing, Focus , at a live venue in 1998. Krivda's tenor sax work signifies a mark of distinction, as he occasionally rekindles memories of Getz' whispery and softly uttered tones. Backed by a rhythm section and an orchestra, Krivda provides additional credence to Sauter's modernistic arrangements, more so from a contemporary standpoint.


StorryHill

Urban Survival

Urban Survival Jazz
This hip modern jazz quartet sneaks a few surprises into the proceedings, featuring groove laden exchanges, elongated melodies, snappy rhythms and a loose vibe. Hailing from New York, the ensemble snuggly fits into that so-called progressive jazz scene without becoming too risqué or off-center. The band also delves into pianist Keith Jarrett's '70s and '80s style ensemble work on certain pieces.


Eruption

Mountain

Fuel 2000
A discounted two-CD of previously unreleased material highlight's guitarist Leslie West's prominence as a killer rock guitarist. These sides are lifted from the group's performances in New York City and Europe. No doubt, West is a crowd pleaser, especially during the band's rendering of its hit "Mississippi Queen."


Habyor

Jim Black - AlasNoAxis

Winter & Winter
Drummer Jim Black's latest solo effort, featuring woodwind ace Chris Speed, bassist Skuli Sverrisson and guitarist Hilmar Jensson, represents a continuation of previous applied concepts. Think of classic, grunge rock coexisting with memorable melodies and intense soloing. A solid and entertaining effort from the heralded drummer!


Uncertain Path

The Rob Levit Trio

Symbol System Records
New England guitarist Rob Levit conveys gobs of diversity during this luminously recorded trio date. He effectively bridges the gap between classic guitar-bass-drums jazz trio fare, while also cranking his electric up for jaunts into the stratosphere. Regardless, it's a nicely balanced production, highlighting this artist's divergent muse and enviable chops.


Ouro Negro Black Gold

Moacir Santos

Adventure Music
Composer/conductor/arranger Moacir Santos is a time-honored and altogether influential Brazilian musician. His modern jazz roots come to fruition here throughout this enormously attractive tribute set, featuring legendary Brazilian crooner Milton Nascimento, guitarist Ricardo Silviera and others. Nonetheless, the palate is several inches deep and miles wide. Marked by lush horn parts, bustling rhythms and delicately fabricated arrangements, this package should find its way into many critics' top ten lists for 2004.


MA.RI

Paolo Angeli/Antonello Salis

Auand
These improvisations by Paolo Angeli (prepared Sardinian guitar) and Antonello Salis (piano & accordion) were recorded live in Europe. There are many highlights, yet one of the more interesting aspects here resides within the duo's unorthodox rhythmic enactments and colorific sound shaping exercises. The instrumentalists maintain a vibrant and rather bouncy flow during the preponderance of these five tracks.


Barcelona In 48 Hours

Edward Ratliff

Strudelmedia
Multi-instrumentalist Edward Ratliff is affiliated with the New York "downtown" scene, where jazz music remains an unbounded musical idiom. This outing brings together drummer Kevin Norton, accordionist Chris Kelly, and others for a program based on a short film. Ratliff's blithely executed works contain a world music vibe, shaded with Spanish themes, quaintly arranged dance grooves and peppery soloing by his "Rhapsodalia" ensemble.


Rosie Solves The Swingin' Riddle!

Rosemary Clooney

Bluebird Jazz
One of two 1960 sessions featuring singer Rosemary Clooney, swinging the American Songbook atop legendary orchestra leader Nelson Riddle's perky arrangements. A very pleasant recording indeed! Ms. Clooney is in full stride during these vivacious arrangements, while Riddle's signature style blend of camp, schmaltz, and jazz rekindles memories of a bygone era. A worthwhile reissue, complete with the original album artwork and liners.


Inspiration

Phil Ranelin

Wide Hive Records
Trombonist Phil Ranelin commandeers a power-packed series of modern jazz stylizations with support from a four-man horn section. Ranelin's dexterous articulations are firmed up by a brawny sound as the musicians delve into post bop territory and bustling swing grooves.


Ladybird

Paolo Damiani

EGEA Records
Bassist/cellist Paolo Damiani leads a jazz octet; showcasing Diana Torto's whispery vocals intermixed with horns, guitar, percussion, and a standard rhythm section. And of course, this Italian record label's superior sound engineering offers additional benefits to the entire listening experience, rooted within jazz and Mediterranean motifs.
Post a comment
---
FOR THE LOVE OF JAZZ
All About Jazz has been a pillar of jazz since 1995, championing it as an art form and, more importantly, supporting the musicians who create it. Our enduring commitment has made "AAJ" one of the most culturally important websites of its kind, read by hundreds of thousands of fans, musicians and industry figures every month.
WE NEED YOUR HELP
To expand our coverage even further and develop new means to foster jazz discovery and connectivity we need your help. You can become a sustaining member for a modest $20 and in return, we'll immediately hide those pesky ads plus provide access to
future articles
for a full year. This winning combination will vastly improve your AAJ experience and allow us to vigorously build on the pioneering work we first started in 1995. So enjoy an ad-free AAJ experience and help us remain a positive beacon for jazz by
making a donation today
.