Album Review
Pierre Favre: Saxophones
By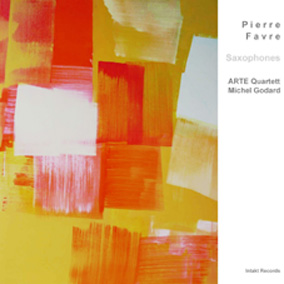 Pierre Favre has an interesting resume. Starting out with names like Lil Hardin Armstrong in the '50s, Favre drummed for Bud Powell, Booker Ervin, and other boppers before going free with the likes of Peter Kowald, Evan Parker, Peter Brötzmann, and John Surman. On his new release with the ARTE Quartet saxophones, with Michel Godard adding tuba and serpent, Favre utilizes parallel motion in arranging the horns resulting in a sound that, while modern, references haunting holy choral music of the Renaissance.
Favre's sustained gong tones give "Sito" an electronic impression, even when Godard's breathy serpent begins its song. The tenor and baritone saxophones form a droning chorus, then alto and soprano join in a minor dominant arrangement that has the air of procession with Favre's brushed beat. Favre's solo on "Solar Wheel" plays with singing bowls and possibly bowed cymbals, metal music rises and falls. "Music 4 & 7" engages the saxophone quartet in a solemn composed piece.
With large drums and shakers, Favre sets "Stampede" in motion. Another percussion solo, Favre works muted cymbals or gongs to create a gamelan effect, from the lull of the Javanese to the war song of the Balinese. With the big drums pounding, "Anecdote" has the saxophones almost World Saxophone Quartet funky, then quickly returns to a more choral sound. Favre strikes an exotic rhythm and the arrangement supports Sascha Armbruster's peripatetic alto solo. Mannered duets return with Beat Hofstetter joining Godard, and then a light moment with Favre signals the return of the ensemble. Godard, Hofstetter, and Favre play a tribal free interlude, climaxing in a thoughtful group exit.
After intro bells, Favre brings the big drums for the solo percussion piece "Les Jeux Sont Faits." Floating in on metallic hum, "Lea" gives Armbruster's alto the lead in a dramatic Spanish-flavored setting. Godard makes the tuba dance over Favre's hand drums on "Options," while "Passages" explores the bottom with Godard and Kappeler within a dark chart. Godard sketches the big animal on "Hippopotamus" with Favre all jungle on drums. The title track finishes with a last off time chorale for the quartet.
The moody, antediluvian airs guiding this collection seem better suited to an autumn release than beach listening. Regardless, Favre and company create music for ancient afternoons.
Track Listing
Sito; Solar Wheel; Music 4 & 7; Stampede; Anecdote; Les jeux sont faits; Lea; Options; Passage; Hippopotamus; Saxophones.
Personnel
Pierre Favre: Drums, Percussion, Compositions; Michel Godard: Tuba, Serpent; Beat Hofstetter: Soprano Saxophone; Sascha Armbruster: Alto Saxophone; Andrea Formenti: Tenor Saxophone; Beat Kappeler: Baritone Saxophone
Album information
Title: Saxophones | Year Released: 2004 | Record Label: Intakt Records
Instrument: Drums
Article Coverage
|
Calendar
|
Album Discography
|
Photo Gallery
|
Similar Artists
Post a comment about this album