Results for "Saxophones"
Instrument: Woodwinds
Related Articles
|
Calendar
|
Albums
|
Photos
|
Similar Artists
Results for pages tagged "Saxophones"...
Musician
Born:
Paul's uniquely expressive voice as a multi-instrumentalist and composer is informed by many styles, including contemporary classical music, world music and jazz. He graduated from the Tasmanian Conservatorium of Music in 1987 with Honours in Composition. Orchestral performance experience includes the Tasmanian and Sydney Symphony Orchestras and the Australian Opera and Ballet Orchestra. Paul has performed with many jazz/improvising groups committed to presenting original Australian music. International acts with whom he has performed include Lou Reed, Bobby Previte, Jim McNeely, Ólafur Arnalds, Jerry Lewis and Michael Bublé
Instrument: Saxophone
Related Articles
|
Calendar
|
Albums
|
Photos
|
Similar Artists
Results for pages tagged "Saxophones"...
Musician
Born:
A native of Southern California, Ava Lemert was submerged in music from birth having a Mother and two elder sisters who were active musicians in the household to influence her. So, it was no surprise that by age 7, Ava was producing her own "radio programs" including her own DJ personna "Kay Kay Dee Jay" on her own cassette tape recorder. At age 11 Ava was writing music notation and submitting her compositions for voice, clarinet (her first school-taught instrument) and guitar to youth talent shows. In High School, Ava would record her keyboard parts, alto saxophone, drum machine, guitar and vocals into her make-shift ping-pong recording system, consisting of a boom box, 4 track cassette recorder and radio shack microphone. A unique lady of many talents, Ms
Instrument: Saxophone
Related Articles
|
Calendar
|
Albums
|
Photos
|
Similar Artists
Results for pages tagged "Saxophones"...
Musician
Born:
1955
Born in Copenhagen, Denmark on April 13th 1970
Starts playing alto-saxophone, later also tenor and soprano 1976 Member of "Strange Brothers" with Peter Danstrup , Ole Rømer and John Tchicai. 1978
Receives the annual Ben Webster Price and creates his own quartet "Spacetrain" with Ben Besiakov, Jesper Lundgaard and Alex Riel. 1979
Plays in many different groups with among others: Jan Kaspersen, Pierre Doerge, Marilyn Mazur, Atilla Engin, Okay Temiz, Mozar Terra, Chuim, Jesper Zeuthen,the Voodoo Gang…. 1983
Joins the sextet of Brazilian drummer and composer Nenê, tours in Denmark and France (double-concertsl with Hermeto Pascoal e Grupo). 1985
Moves to Paris and plays with a.o.: Denis Badault ( National Jazz Orch.,quartet,duo,) Andy Emler, Nguyên Lê, Quintet Moutin, Ramuntcho Matta, Edouard Ferlet and with his own projects including musicians such as: Richard Bona, Billy Hart,Niels Lan Doky, J.F. Jenny-Clarke, Bojan Z., Alain Jean-Marie, Simon Goubert,Xavier Desandre, Mariane Bitran… 1995
Release of "Mardi Gras, Chez Toi" and creation of "Maaneklar" (a quintet with sax,flute, bass and two percussionists). Release of"Ekwata", duo with D. Badault. 1998

Moves back to Copenhagen and creates the tentet "Central Earth" with among others: Poul Reimann,Fredrik Lundin, Bjarne Roupé, Marc Davis, Anders Mogensen…records "Wondering" with Maaneklar for Dacapo. 1999
Concerts and recording with a new quartet with Thomas Clausen, Jesper Lundgaard and Billy Hart.( "Identified" Dacapo ). First performances with "Ear Witness" with Emil Spányi, ,Linley Marthe and Felix Sabal-Lecco. 2000
Creation of "Flower Machine" with Thomas Agergaard, Klavs Hovman and Marilyn Mazur. 2001
Concerts in quintet with a.o. Anders Bergcrantz and Kasper Villaume. 2002
"French Quartet" with Franck Tortiller, Yves Torchinsky and Francois Laizeau ( "Noctiflore" Altrisuoni ). Release of "Dancing on Monday" with Flower Machine. Member of the "United Notions" saxophone-quartet. 2003
Release of "Ear Witness" and "Live in Copenhagen Jazzhouse" w. Central Earth (Music Mecca ). 2005
New 5-tet with Bob Rockwell, Peter Dahlgren, Jeppe Skovbakke/ Yasser Pino and Karsten Bagge . "Rainbow Spirit" with Dawda Jobarteh, Thomas Fonnesbech and Ayi Solomon. 2006
Member of Edouard Ferlet's "l'Echarpe d'Iris" with Alain Grange and Xavier Desandre. New octet-version of "Maaneklar" with a.o. Kristian Jørgensen, Bent Clausen, Benita Haastrup, Mariane Bitran…Member of Emil Hess "Evolution Nonet". Quartet with Mario Canonge, Michel Zenino and Tony Rabeson. Member of Niels Praestholms "EMBLA". 2007
Start of the record label Alisio ( Spangster Records), release of Rainbow Spirit and "Coexistence" with the 5-tet. Member of Alain Apaloo's "API PIPO". 2008
release of "The Riddle" with Ear Witness. Live-recording in Copenhagen Jazzhouse with "MAANEKLAR XL". Nominations for Danish Jazz Awards: Composer of the Year, Album of the year: Coexistence, cross-over album of the year : Rainbow Spirit. 2009
Alisio Ensemble (formerly Maaneklar), concerts and recording. Member of Art Ensemble Syd, Niels Praestholm "Gyroscope String Trio" + , concerts with "Special Quartet" ( Kristian Joergensen,Jesper Lundgaard and Kaare Munkholm). Recordings with Hiroko Komyia and Ramunntcho Matta. "Raise Four" hommage à Th. Monk with Benjamin Moussay, Yoni Zelnik and TonyRabeson. 2010
Weather Report Tribute ( w. Joergen Emborg, Bo Stief, Niclas Campagnol and Ayi Solomon), tour with "Alisio Ensemble".. Concert at the Museu de Pampulha, Belo Horizonte, Brazil with Mariane Bitran, Enéias Xavier, Irio Junior and André Limao Queiroz... studio-recording with Special Quartet. 2011
Tours with Api Pipo and Alisio Ensemble. 2012
Tour in Denmark and Brazil ( Savassi Jazz Festival) with "Brazilian Project", Sarajevo Festival and tour in France with Niels Præstholm "Gyroscope String Trio" feat. Haakon Berre & S.S.H. Release of "Citizen Song" with Special Quartet. Jahazi Literary & Jazz Festival (Zanzibar) with Rainbow Spirit. Tour in Denmark and Sweden with Decagon. Member of Arnold Ludvig Sextet, cd "Voyages", concerts in Denmark and Faroe Islands. 2013
"Liberty" with Michael Gregory Jackson and Art Ensemble Syd. "Luna Moon" with Sébastien Boisseau and Christophe Lavergne. Duo concerts with M.G.J. at the Shapeshifter Lab, Brooklyn. N.Y. and outpost 186 in Cambridge, Boston 2014
Savassi Jazz Festival, Belo Horizonte and JazzB in Sao Paolo with Brazilian Project. Recording in Estudio Acústico, (B.H.). New Quartet with Ben Besiakov, Thomas Fonnesbech and Niclas Campagnol. TRIO concerts in Denmark and France. Member of Niels Ryde Quartet. 2015
Jahazi Festival in Zanzibar with "Ear Witness". Release of "Stonetown Boogie". Tour with Michael Gregory Jackson Clarity Quartet, cd "After Before" 2016
release of Back to Earth with the new group Café Central Claudia Campagnol, Mariane Bitran, Alain Apaloo, Aske Drasbaek, Yasser Pino, Niclas Campagnol). Concerts in Denmark. Concerts with Art Ensemble Syd and oudist Maher Mahmoud. 2017
release of "Caminho Da Lua" with the Brazilian Project – Ricardo Fiúza at the piano, guest: Magno Alexandre, guitar. Duo with Thomas Fonnesbech. 2018
"Middle Earth" with Maher Mahmoud, oud – Yasser Morejon Pino, bass – Ayi Solomon, percussion Cd: "Midnight Again". New Cd "The Bird Next Tree" with Strange Brothers: Kasper Tranberg, Peter Danstrup and Ole Roemer. Second release with Café Central "Speaking to the Wind" ALCD0012. 2019
Recording with "Epistrophy Septet" (Erik Kimestad, Fredrik Lundin, Mikkel Aagaard, Artur Tuznik, Yasser Pino, Anders Mogensen). 2020
Release of "Plutonic Eclipse" with the Epistrophy Septet. 2021
Simon Spang-Hanssen TRIO with Matthias Petri, bass and David Besiakov, drums. Recording of the album "Song for Sonny". 2022
new recording with the Epistrophy Septet (w. Peter Dahlgren, tb.), creation of "Song Book" with Mai Lan Doky, vocal – Ken Lihn Doky, piano – Anders Fjeldsted, bass –David Besiakov, drums, new songs music and lyrics by S.S.H. – Duo with Louise Dam Eckhardt Jensen.
Results for pages tagged "Saxophones"...
Instrument: Band / orchestra
Related Articles
|
Calendar
|
Albums
|
Photos
|
Similar Artists
Results for pages tagged "Saxophones"...
Musician
Antonio Cosenza, guitarist, composer and founder of the Latin-Jazz Band SELVA started playing the guitar at the age of ten. He began his study of music in 1977 at the National Conservatory in Guatemala city. He lives in Hamburg since 1982 where he continued studying at the High School for Music, before successfuly graduating in 1987. His repertoire includes music from the renaissance period thorough to present, with the main emphasis concentrating on latinamerican music. Some of his own compositions and also numerous arrangements from the music of the mayan and garinagu have been published in germany and guatemala
Instrument: Saxophone
Related Articles
|
Calendar
|
Albums
|
Photos
|
Similar Artists
Results for pages tagged "Saxophones"...
Musician
Toronto - based saxophonist, composer, producer, band leader, and educator Scott Marshall is highly sought after for his skills within the jazz community, and professional jobbing scenes of his city. A skilled composer and arranger, Scott's compositions have been featured on five of his own releases: Dream Logic Project (2018) Nihahi Ridge (2014), Vignettes (2010), Nine Moments of Time (2007), and Face it (2002), as well as two releases by the group Out of Order: What Now (2000), and Out of Order (1997). Scott's compositions have also been featured in the feature length movie The Anniversary by Canadian film maker Valarie Buhagiar, and the short film The Loss by Consistent C Films. Scott is a skilled producer
Album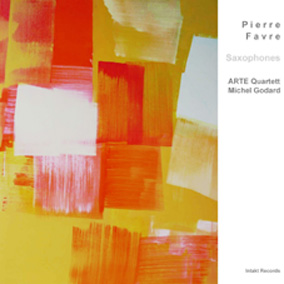 By Pierre Favre
Label: Intakt Records
Released: 2004
Track listing: Sito; Solar Wheel; Music 4 & 7; Stampede; Anecdote; Les jeux sont faits; Lea; Options; Passage; Hippopotamus; Saxophones.
Article: Album Review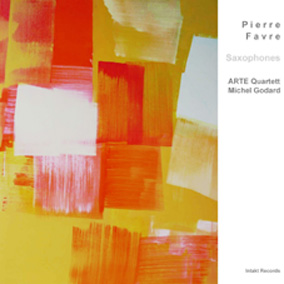 by Rex Butters

Pierre Favre has an interesting resume. Starting out with names like Lil Hardin Armstrong in the '50s, Favre drummed for Bud Powell, Booker Ervin, and other boppers before going free with the likes of Peter Kowald, Evan Parker, Peter Brötzmann, and John Surman. On his new release with the ARTE Quartet saxophones, with Michel Godard adding ...