Album Review
Underground Jazz Trio: Radio Free Europa
By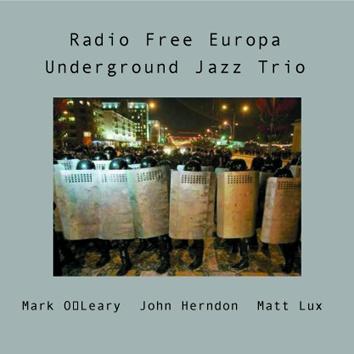 Improvising Irish guitarist Mark O' Leary's spiraling jazz presence continues with the Underground Jazz Trio, which is a free-form endeavor that rings like a basement jam session. Sparked by O'Leary's medium-toned electric guitar phrasings, the band investigates ethereal dreamscapes and bustling passages, partly consummated by the guitarist's spacey volume control permutations. Recorded in Chicago with Tortoise drummer John Herndon and Isotope 217 bassist Matt Lux, the music iterated on
Radio Free Europa
is all about synergistic improvisation and wavering rhythmic undercurrents.
O'Leary's propelling flurries are contrasted effectively with Lux' contrapuntal bass lines as they form a tight knit bond here. Yet on some of the high-octane moments—when the guitarist is surging into the cosmos at the speed of light—Lux seems a tad buried in the mix. And perhaps more importantly, he seldom kicks matters into overdrive.


"Spraoi is comprised of a mid-tempo swing vamp, touched with a slight blues twang and a surging impetus. The trio revs it up some with "Storm und dran, and delves into a cosmic panorama during "Radio Free Europa. To that end, the unit's explorative facilitations are primarily motivated by O'Leary's flickering notes and sometimes imploding frameworks. But one minor beef pertains to the band's lack of thematic expansion. Even in free-jazz realms, musicians often lay out some sort of theme (however slight or unassuming), but on this effort the trio generally expounds upon loosely based riffs and structured or asymmetrical rhythms. Nonetheless, O'Leary has become a major force to be reckoned with.
Track Listing
Reaching Out; Silent Will; Spraoi; Not Without Hope; Changing; Storm und drang; Radio Free Europa; Collateral.
Personnel
Mark O'Leary: guitar; John Herndon: drums; Mat Lux: bass.
Album information
Title: Radio Free Europa | Year Released: 2007 | Record Label: Leo Records
Post a comment about this album