Album Review
Dave Rempis Quartet: Out of Season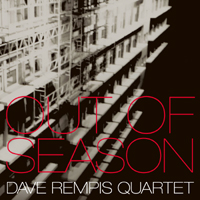 Saxophonist Dave Rempis blew onto the Windy City free jazz scene in 1999, when he replaced Mars Williams in The Vandermark 5, making his scorching presence known on that band's revered third album, Simpatico (Atavistic).
Out of Season
is the debut of Rempis's quartet, which includes drummer Tim Daisy (who also plays in the V5, as well as in another Rempis project, Triage), piano/synth wizard and violinist Jim Baker, and bassist Jason Roebke, a student of Roscoe Mitchell. A pristine, studio-quality set, the disc was recorded live at Chicago venue 3030 in October 2003. And it's one of the best recent examples of the powerful, incendiary sounds that mark the town as a prime center of forward-looking jazz.
There are two words that best sum up this music: restraint and communication. Throughout the hour-long session, Rempis and group, despite their frequent tsunamis of improvisation, are never in a hurry to end the journey, never overly eager to cram in everything they have to say before the night is over. Even in the freest of jazz, self-control is a key—and too often forgotten—virtue. To this band, taste and control are everything. These guys know how to listen, both to their instruments and each other. How to let the music build and build in a slow boil, allowing the empty space to flood the room, the formidable silence to take over—before Rempis's throttled yelps hit their limit and the whole thing explodes again.
The ability to communicate is a skill these players have learned well from their Chicago mentors: Fred Anderson, Von Freeman, Roscoe Mitchell, even Ken Vandermark. And, given that they have also played together in previous aggregations, it's no surprise that the level of telepathy is so high. What's truly mind-blowing, however, is that most of these musicians, who look to be in their late 20s to early 30s, all play with the skill and intelligence of many of their seniors. Great teachers or great students? Both, we'd say.
Out of Season
is a thoroughly rewarding debut by an outfit that all lovers of modern improvised music should watch. And not at all bad for one whose leader cites the Muppets' saxophonist as his original inspiration.
Track Listing
Out of Season: 1. Part I; Interlude; Part II; Part III; Scuffle: Part I; Part II; Never at a Loss
Personnel
Dave Rempis?alto and tenor saxophone; Jim Baker?piano, analog synthesizer, violin; Jason Roebke?bass; Tim Daisy?drums
Album information
Title: Out Of Season | Year Released: 2004 | Record Label: 482 Music
---
FOR THE LOVE OF JAZZ
All About Jazz has been a pillar of jazz since 1995, championing it as an art form and, more importantly, supporting the musicians who create it. Our enduring commitment has made "AAJ" one of the most culturally important websites of its kind, read by hundreds of thousands of fans, musicians and industry figures every month.
WE NEED YOUR HELP
To expand our coverage even further and develop new means to foster jazz discovery and connectivity we need your help. You can become a sustaining member for a modest $20 and in return, we'll immediately hide those pesky ads plus provide access to
future articles
for a full year. This winning combination will vastly improve your AAJ experience and allow us to vigorously build on the pioneering work we first started in 1995. So enjoy an ad-free AAJ experience and help us remain a positive beacon for jazz by
making a donation today
.
Instrument: Saxophone
Article Coverage
|
Calendar
|
Albums
|
Photos
|
Similar Artists
Post a comment about this album