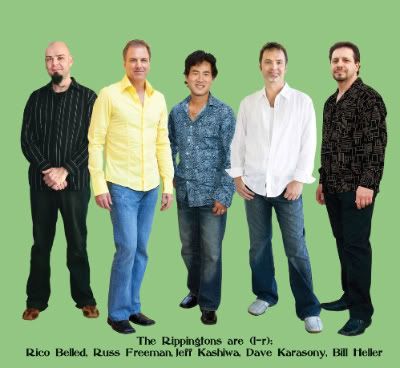 29th Cape May Jazz Festival
The Next Wave
April 18-20, 2008

World Class Jazz in America's Original Seaside Resort, Cape May, New Jersey

A celebration of America's finest "Young Lions" in Traditional, Blues, and Latin Jazz

The Cape May Jazz Festival proudly presents many of the finest "young lions" in jazz today. As a natural successor to our 28th Festival "Favorites Return", the "Next Wave" features an elite up-and-coming new breed of artists: cutting edge musicians across many jazz genres, each honoring the legendary players who came before. This is a must attend weekend for any jazz lover with roots in the past, and an ear towards the future!

Who better to celebrate the past and future of contemporary jazz than the legendary Rippingtons featuring Russ Freeman on Friday April 18th! Having spent much of the past twenty years on the Billboard Jazz charts, the "Ripps" early personnel include David Benoit & Kenny G, and have featured guest stars including Arturo Sandoval, Willy Chirino, Dave Grusin, Joe Sample, Dave Koz, Bob James, Kirk Whalum... the list goes on. The Rippington's "Moonlighting" has been called "the #1 Most Influential Contemporary Jazz Album of All Time"(Jazziz). If that isn't enough, discover more great jazz talent throughout Cape May with Chuchito Valdes, Sila and Afrofunk, Sue Giles, Robert Glasper, Courtney Bryan with Christian Scott, and the driving blues of Anthony Gomes. Saturday night, celebrate our 15th anniversary as we "kick it up" with the Cintron Latin Dance Party! Cintron blends tasty Latin percussions with powerful big band horns, topped with smooth bilingual vocals, then injected with R&B and urban flavors to create a unique Latin Jazz Dance experience. You'll be dancing from Convention Hall on the way to other exciting "Next Wave" performances including Javon Jackson, Tim Price with Rachael Z, Winard Harper, Leon Jordan Jr. with El Shafer, Neal Smith, and the Chris Bergson Blues Band!
This story appears courtesy of Jim Eigo, Jazz Promo Services.
Copyright © 2021. All rights reserved.
For interview requests or more information contact Jim Eigo, Jazz Promo Services.