Charles Gayle
Charles Gayle blew down with hurricane force - the pun is too obvious - out of Buffalo. He drifted in and out of the first great free jazz scenes of the Sixties, playing with Pharoah, Archie Shepp, and other trailblazers. But he says now that his sound then was even more fiery and forceful than it is now, and he couldn't get a recording date. He drifted. He became homeless. He lived as a squatter in an abandoned Lower East Side tenement. He found Jesus.
He kept playing. His music retained its hard industrial edge. It sent listeners through the wall. It busted them out of the day-to-day grind into a divine ecstasy. It lifted and uplifted. He developed a tremendous facility with the upper- upper register of the tenor saxophone, so that he could take his spiritual flights to their farthest reaches. He played wherever he could; his steadiest gig was in the New York subways.
Eventually lightning struck. In the late Eighties Silkheart Records recorded three discs him featuring Gayle's ecstatic, holy holy tenor. One of them, the much-overlooked Always Born, paired him with the incomparable John Tchicai, a pairing that seemed problematic at the time but which worked much better than perhaps anyone was aware then.
After that work, and recordings, came a bit more steadily. For the enigmatic German FMP label he recorded the all-time classic Touchin' on Trane with musicians as talented and passionate as he: bassist William Parker and drummer Rashied Ali, a living connection with the Coltrane legacy that Gayle so dynamically extends here. But this disc became something of an anomaly in the Gayle discography: most of the others were much more furious. Gut-wrenching, metal-tearing, pedal-to-the-floor music.
Read more
Radio & Podcasts
Album Review
Radio & Podcasts
Multiple Reviews
Album Review
Live Review
Multiple Reviews
Read more articles
February 28, 2021
February 28, 2020
February 28, 2019
February 28, 2018
February 28, 2017
February 28, 2016
February 28, 2015
June 11, 2014
May 27, 2014
September 12, 2012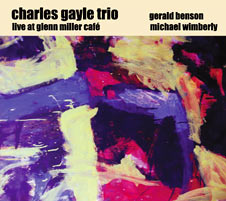 From: Live at Glenn Miller Cafe
By Charles Gayle
From: Time Zones
By Charles Gayle