Contemporary Vibes
May-June 2004 CD Review Corner
By
As spring comes to a close, I'm reminded of all the great music festivals that will be held this summer. My personal favorite is the
U.S. Bank Saint Louis Jazz Festival
in Clayton, Missouri from June 24-25, 2004. John Scofield, Wynton Marsalis, Aaron Neville and The John Pizarelli Trio are some of the acts that will be there.
Maybe one of the artists that we've reviewed below will peak your interest and encourage you to venture to a festival in your area. Surf on over to the All About Jazz festival page for a listing of national and international music festivals. Hang up that remote control and get out this summer. After all, jazz is best served hot and live.


Wildflower
Keiko Matsui
2004
Matsui is beautifully stirring and magically alluring in Wildflower. This marks the 14th studio recording for this dynamic artist. All eleven tracks on this Narada release are originals. A passionate humanitarian, her 45-city tour will benefit the United Nations World Food Programme.
Circle of Nomads
Farshid etniko
2003
Farshid etniko weaves magic with flavors of Latin jazz and Persian grooves. A favorite of St. Louis radio, their songs receive regular play on 106.5 Smooth Jazz (WSSM). Circle of Nomads celebrates the rich and diverse cultures of the various band members who came together to make this recording.
Passion
Mark Towns
2004
Towns starts off Pick Up the Pieces with guitar lines that are slightly reminiscent of Acoustic Alchemy. Hubert Laws on flute adds a delicate polish to Ever After. While some of songs didn't capture my attention, Mark Towns and Rainel Pino (piano) in Orange & Blue come together for a simply stunning partnership of melodic layers.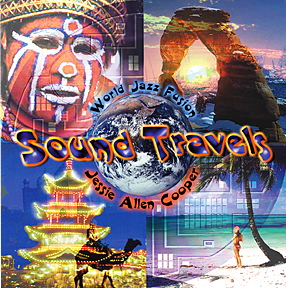 Sound Travels
Jessie Allen Cooper
2004
An eclectic blend of world-beats, you'll find this CD to be an easy listen. Songs vary from jazz, rock and roll to new age meditative styles. There is something for everyone in this playful collection of gorgeous melodies and colorful arrangements.
Noche de Pasioñ
Alan Hewitt Project
2004
Pianist/composer Alan Hewitt presents a carefully nurtured work in this ten-track CD. Each song possesses a distinct personality that touches the heart and stirs the soul. Hewitt shares center-stage with special guests Mindi Abair, Euge Groove, Jonathan Butler, Michael Lington and others.
Forever In A Moment
Plunky and Oneness
2004
This Virginia-based group of musicians presents their brand of neo-soul in Forever In A Moment. Led by saxophonist J. Plunky Branch, the overall musicianship is tight. However, the arrangements tend to remind me of an 80's sort of vibe.
Origami
Paul Serrato & Co
2004
Paul Serrato manages to create a CD that celebrates the rich history of jazz, while moving the music forward into the future. It's not completely straight-ahead or devoted only to smooth jazz. The tunes possess an often refreshingly light and airy approach.

Tracks:
Wildflower
1. Flashback; 2. Facing Up; 3. Sense of a Journey; 4. Brand New Wind; 5. Eldest of All; 6. Reflections; 7. White Castle; 8. Temple of Life; 9. Seeker; 10. Stone Circle; 11. Wildflower


Circle of Nomads
1. Sugar Free Blues; 2. Same Story, Different Era; 3. Memories of Esphahan; 4. Ambalabas; 5. Shaneh; 6. Circle of Nomads; 7. Sunrise in San Juan; 8. Zarb Improvisation; 9. Bon Voyage; 10. Yadegari; 11. Bless or Blues; 12. Besamè Mucho


Passion
1. Pick Up The Pieces; 2. Desert Flower; 3. Ever After; 4. Star Light; 5. Orange & Blue; 6 Spanish Funk; 7. Miel; 8. Espacio; 9. Rainy Night


Sound Travels
1. Full Moon; 2. Waltz For An Artist; 3. Awakening; 4. Groovin Out Back; 5. Song For You; 6. Heavens Dance; 7. Walkin The Park; 8. Dance On; 9. Ballad For An Artist; 10. Missing You; 11. Rain Dance; 12. Tranquility


Noche de Pasioń
1. Noche de Pasioń; 2. Breathless; 3. Love Feeds The Fire; 4. Sweet Thing; 5. U Touch Me; 6. Inside My Dreams; 7. Viva la Noche; 8. Captured; 9. Blue Sky; 10. Reminisce


Forever In A Moment
1. Happiness Is . . . ; 2. It Feels So Right; 3. Like Nobody's Watching; 4. Forever In A Moment; 5. The Gift Bearers; 6. Relax, We're Among Friends; 7. Simple Pleasures; 8. Some Time Together; 9. Come With Me; 10. Forever My Love; 11. Brazilian Fantasy; 12. Just Up Ahead And To The Left


Origami
1. Groove Move; 2. Corona Carlos; 3. Solar; 4. Origami; 5. Who Are You?; 6. Open 24 Hours; 7. I'm Starting All Over
---
FOR THE LOVE OF JAZZ
All About Jazz has been a pillar of jazz since 1995, championing it as an art form and, more importantly, supporting the musicians who create it. Our enduring commitment has made "AAJ" one of the most culturally important websites of its kind, read by hundreds of thousands of fans, musicians and industry figures every month.
WE NEED YOUR HELP
To expand our coverage even further and develop new means to foster jazz discovery and connectivity we need your help. You can become a sustaining member for a modest $20 and in return, we'll immediately hide those pesky ads plus provide access to
future articles
for a full year. This winning combination will vastly improve your AAJ experience and allow us to vigorously build on the pioneering work we first started in 1995. So enjoy an ad-free AAJ experience and help us remain a positive beacon for jazz by
making a donation today
.
Post a comment