May 2004
Promises Kept
Steve Kuhn with Strings
ECM Records
Venerated modern jazz pianist Steve Kuhn and longtime musical associate, bassist David Finck perpetuate a fragile beauty during this absorbing production. Carlos Franzetti orchestrates and conducts the strings section, overlaid atop the bassist's supple accompaniment and Kuhn's eloquent lines. An air of romance and intrigue permeates the preponderance of this affair. Hence, a beautifully envisioned accomplishment by a pianist who proves yet again that his craft is unbounded and seemingly limitless in scope. This recording will undoubtedly be counted among Kuhn's finest artistic statements to date.


The Centennial Collection

Fats Waller

Bluebird Jazz
Bluebird Jazz releases this 2-CD set in conjunction with legendary pianist/vocalist Fats Waller's one-hundredth birthday. His staple of hits, including "Ain't Misbehavin," "This Joint Is Jumpin'" and many others, are included, while the second disc is a DVD featuring rare concert footage. Waller's popularity was centered upon his wit, affable stage presence, and stride/boogie-woogie/jazz piano acumen. The songs are digitally remastered, yet of course these processes reap slightly noticeable enhancements due to the quality of the original tapes. Nevertheless, Waller's music is timeless.


Pin Your Spin

Jon Cleary And The Absolute Monster Gentlemen

Basin Street Records
Hailing from Britain, vocalist/keyboardist/guitarist Jon Cleary has become a favorite within the New Orleans music circuit amid touring and session work with Ray Charles and many other notables. The artist's second outing for Basin Street Records features more funk-rock grooves, shaded with a scent of the Big Easy. Some tunes are more memorable than others, but Cleary does posses a distinctive vocal persona. At times, his band clearly rocks the house down. Thus, it's a fun-filled outing that highlights the energy and charisma witnessed during his live concerts.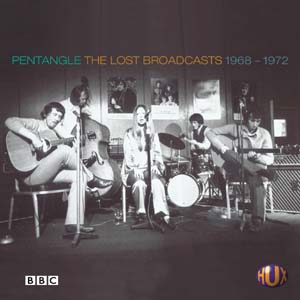 The Lost Broadcasts: 1968-1972

Pentangle

Hux Records
Hux Records specializes in unearthing previously unissued recordings by mainly European progressive rock artists. However, these never before released sessions recorded by the British Broadcasting Company couldn't have come soon enough. A great band featuring the finger picking acoustic guitar wizardry of Bert Jansch and John Renbourne, the band melded heavenly British folk musings with progressive rock and pop type hues. Many of these old analog recordings sound remarkably fresh. However, the angelic vocals of Jacqui McShee should soothe even the most savage of beasts, especially where catchy melodies sound like they're emanating from the heavens.


Devils Paradise

Gerry Hemingway Quartet

Clean Feed Records
A progressive jazz super-group it is. This is a relatively recent release, and of course an import from the record label that is stationed in Portugal. Drummer Gerry Hemingway, plus saxophonist Ellery Eskelin, trombonist Ray Anderson and bassist Mark Dresser, spin their collective identities throughout these impassioned works. Nonetheless, it's powerfully moving stuff. A modern jazz aficionado's delight, thanks to the artists' expressive soloing, and a hybrid, structured-freeform musical gait, honed down by the leader's impressionable composing skills.


Live in Aught-Three

James McMurtry and the Heartless Bastards

Compadre Records
Singer/songwriter James McMurtry and his band impart a touch of brash, Texas-style rock to audiences in Kansas, Tennessee and elsewhere on this live recording. McMurtry's commanding lower register vocal chops and witty remarks fare nicely atop his ensemble's electrified support. He's a significant songwriter who conveys a sharp wit, evidenced by his homespun lyricism. However, at nearly eighty-minutes in duration and musically speaking, many of these pieces tend to sound like slight variations of what was previously executed.


Trumpets Eleven

Michael Davis

Hip-Bone Music
Ace trombonist Michael Davis summons trumpeters from the East and West Coasts for this sharply produced engagement. David performs on all tracks, highlighting individual trumpeters such as Bobby Shew, Randy Brecker, and Eddie Henderson among eight others. Crack rhythm sections provide the up-tempo swing grooves, amid segments that could theoretically serve as film backdrops. Davis' works feature memorable choruses, and haunting melodies to coincide with the ensemble's vivacious accompaniment. Besides his affiliation with jazz artists, Davis' tenure with "The Rolling Stones," and other pop-rock acts obviously affords him an opportunity to visualize a hodgepodge of musical concepts. And while this is a jazz outing, Davis' songwriting and arranging skills impart a memorable impression, warranting repeated listens.


Cape Town Revisited

Abdullah Ibrahim Trio
---