Big Tall Wish: Leverage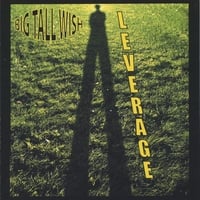 It's not clear whether the tune "Punk Jazz, by the late great jazz bassist Jaco Pastorius, was a protest against the acoustic jazz establishment or not. But for decades musicians have continued to produce their own statements of self-expression using whatever technologies and influences available at their disposal. The group Big Tall Wish, like many jazz-oriented musicians today, use everything from hip hop beats, electronics, and jazz on
Leverage
, mixing music that reflects a variety of modern urban skins.
The New York-based trio consisting of guitarist Mike Barile, bassist Steve Armstrong, and drummer Evan Howard blends thick doses of programming, a variety of sampled sounds, and other tech-goodies with live instruments and guest musicians. Acoustic/electric music has been exploited for years but what BTW does well on this recording is to produce some hip-centric sounds with good musicianship.
The very first cut, "Boomshakaboom, sounds like a cross between the Beastie Boys and Herbie Hancock's
Future Shock
(Columbia, 1983). Sonic keyboards are mixed nicely with smooth guitar and sax solos on "Roller Derby Destruction Unit. The percussion programming on "It's a Circus is totally cool and the flute vamp adds to the airy vibe. Unlike similar type recordings there's a balance of both pumped up and slower grooves such as "Yes, No, Maybe So.
The hook-up of old and new sounds is in full effect. Jazz pundits who state that the music is at a dead end with the popular culture should check out the group's cover of Ornette Coleman's "Lonely Woman as the melody is first silhouetted then reveals itself strongly. The new spin on the classic is quite nice.
Leverage
fits in nicely in the club, on the dance floor, cruising in your car, or wherever you like to get your groove- n- jazz on.

Track Listing: Boomshakaboom; Roller Derby Destruction Unit; A Thin Line; Slinky; It's A Circus; Yes, No, Maybe So; Riot Jazz (aka/Beezlebubblyboo); Talk To Me; Time To Go; Lonely Woman.
Personnel: Mike Barile: guitar, programming; Steve Armstrong: bass, programming; Evan Howard: drums, programming. Guests: Rex Gregory: tenor sax (1, 2, 7), alto sax (3, 5, 10), flute (1); Ed Petersen: tenor sax (1, 4); James Westfall: vibes (7, 9); Mat McClimon: vibes (3, 5).
---