Jeff Beck: Live at the Hollywood Bowl
By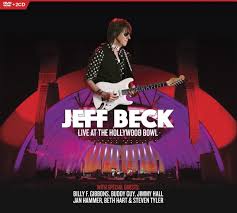 Jeff Beck
Live at the Hollywood Bowl
Eagle Rock
2017
As fashionable as concert sit-ins have come to be in recent years, such guesting can be the bane of the live performance. So often it is the case that such invitees can interrupts the flow and/or momentum rather than nurturing it. However,
Jeff Beck
's August 2016 celebration in Los Angeles of his fiftieth anniversary is the exception to that rule: the stream of diverse personnel is of a piece with the stylistic history the event represents. In directing and editing the video, Jim Yukich displayed laudable patience to accurately preserve the ebb and flow of energy arising from the charged atmosphere on the stage.
Live at the Hollywood Bowl
is quite likely everything the attendee would want to hear at one of the British guitarist's shows. Likewise, the guests that populate the roster and share the stage with the icon of the instrument are all those a fan would hope for, but not expect to see in a single setting. For instance, Steven Tyler's role as vocalist is no more forceful than that of Beck's long-time collaborating vocalist, Jimmy Hall of Wet Willie, but , on "Shapes of Things," a cull from
Truth
(Epic, 1968), the flamboyance of the Aerosmith frontman renders moot the absence of Rod Stewart, lead vocalist in the Jeff Beck Group in that era.
That the presentation works as well as it does, and in slightly less than two hours from start to finish, is a tribute to the humility the star shares with all his collaborators. At a venue possessed of its own natural spectacle, with no extravagant production, there's also precious little showmanship on Beck's part, so the resulting drama derives directly from the music and the musicians, none of whom engage in any showboating to speak of (including the often brassy Beth Hart).
Not that anyone could steal the show from the man who took
Eric Clapton
's place in the Yardbirds. Beck enthralls with the explosive ingenuity in the sounds he coaxes from his Fender and the devil-may-care way he handles his instrument is as entertaining as his restraint is remarkable as on Stevie Wonder's "'Cause We've Ended As Lovers." During all of this idiosyncratic playing, Beck's only gadget to speak of is a glass slide (though he does love his whammy bar!).
Only slightly less impressive is the instinctual skill of Jeff Beck's rhythm section of the last couple years. Once in the band of
Prince
—whose "Purple Rain" closes this show more in a celebratory gesture of homage—bassist Rhonda Smith exudes a self assurance, not to mention a visible pleasure, comparable the leader's own. As does drummer Jonathan Joseph (on a gigantic kit), perhaps because the audio mix was as finely tuned in their respective monitors as in this recording.
Therein lies the clear advantage of having the show included on two CD's along with the DVD in this package. To be sure, the video carries its own intrinsic theater, but listening to the performance(s) sans visuals only further imprints the distinction of this concert, not to mention the durability of Jeff Beck's music; the reality is that he may sound so fresh so consistently simply because he pushes himself into so many different stylistic realms. He doesn't give himself or his listeners a chance to be bored here any more than he has over the five decades of his career.
There's a sense each and every performer, like the star of the show himself, feels a deep sense of gratitude for the opportunity to participate in this presentation. From the interactions with the young upstarts Rosie Bones and Carmen Vandenberg, with whom Beck had just recorded released his latest record,
Loud Hailer
(Rhino, 2016 , to the irrepressible Hall, it's clear that what was once impetuosity to a fault in the British iconoclast has, over the course of the years, become tempered into a nonchalant spontaneity.
That's an element especially noticeable during the handful of cuts on which keyboardist
Jan Hammer
sits in. This former member of the original
Mahavishnu Orchestra
, with whom Jeff cemented his reputation in the hierarchy of jazz-rock fusion on their tours together as well studio collaborations such as
Wired
(Epic, 1976) still delights in his abiding connection with the archetypal guitar hero, in part because they challenge each other. And the feeling is clearly mutual judging from the Beck's body language during "Blue Wind" and "Star Cycle," a phenomenon captured ever so clearly in camera angles aimed across the stage at such moments.
As is readily apparent during the interval with ZZ Top's
Billy Gibbons
, there's a special affection between guitarists, so if there is a crowning achievement to this show, it may lie in those moments Beck and the ageless bluesman
Buddy Guy
share the stage on "Let Me Love You." Or that might be the case if it weren't for this rendition of "A Day in the Life:" originally recorded as part of a tribute to the late Sir George Martin, producer (of a select few Beck records as well as the Fab Four), Jeff imbues
The Beatles
' song with a deep abiding dignity, as if it was composed specifically for milestones like this one he's recognizing.
Live at the Hollywood Bowl
radiates exactly that kind of significance from all involved, so it's only natural Alan Light's essay in the accompanying booklet nearly overflows with the excitement of an observer who couldn't predict what was next to come. But then that's the sensation that has arisen over the fifty years of Jeff Beck's career and this unique performance is a direct reflection of his artistic adventures.
Post a comment
---
FOR THE LOVE OF JAZZ
All About Jazz has been a pillar of jazz since 1995, championing it as an art form and, more importantly, supporting the musicians who create it. Our enduring commitment has made "AAJ" one of the most culturally important websites of its kind, read by hundreds of thousands of fans, musicians and industry figures every month.
WE NEED YOUR HELP
To expand our coverage even further and develop new means to foster jazz discovery and connectivity we need your help. You can become a sustaining member for a modest $20 and in return, we'll immediately hide those pesky ads plus provide access to
future articles
for a full year. This winning combination will vastly improve your AAJ experience and allow us to vigorously build on the pioneering work we first started in 1995. So enjoy an ad-free AAJ experience and help us remain a positive beacon for jazz by
making a donation today
.
Instrument: Guitar
Article Coverage
|
Albums
|
Photos
|
Similar Artists