Bailey's Bundles
Five Women VII – Zoe Schwarz; Mercedes Figueras; Vivian Buczek; Carol Albert; Douyé
By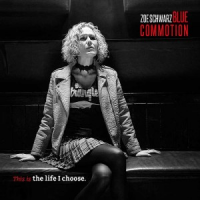 Zoe Schwarz Blue Commotion
This Is the Life I Choose
33 Jazz Records
2017
Zoe Schwarz and her band, the Blue Commotion, have been making a name for themselves in their native England for the better part of this decade. With five albums to their credit, the band and singer have firmly established themselves as a progressive and provocative 21st Century blues band. Blue Commotion is nominally a guitar-organ trio, a tight funky one. Schwarz' voice is durable and obviously teachable and evolving. If
Zoë Schwarz Blues Commotion
(33 Jazz Records, 2012) was the singer's polite collection of blues standards and
Slow Burn
(33 Jazz Records, 2013) as her jazz nod, then
This Is the Life I Choose
is where she and husband/guitarist Bob Koral throwback the whiskey and turn up the volume. Way up. A majority of eleven regular and two bonus tracks are smart originals addressing all corners of blues, rock, and R&B. Additionally, Schwarz and Koral find that distinctly British herb, the one used by Led Zeppelin, Eric Clapton, and other like-minded British invasion musicians to add their personal touch to the American art form. Hear "Free From You" to hear a true musical mutation to something new and exciting.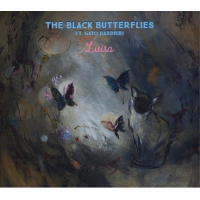 Mercedes Figueras and the Black Butterflies
Luisa
Self Produced
2017
The alto saxophonist
Mercedes Figueras
Black Butterflies released
Rainbows for Ramon
(Self Produced) in 2012 to positive reviews. The recording was a beautifully organic, full of humid and sensual performances. Since that time, Ms. Figueras continued performing regularly, taking time to welcome a new child into her family. Now she finds herself back in fighting shape and sharing the recording stage with Argentine tenor saxophonist Leandro "Gato" Barbieri for a stroll through the South American climes.
Luisa
is hypnotic and intoxicating like UB40's brilliant
Perpetuum Mobile
-
Signing Off
(Graduate Records, 1980). Unabashedly Latin Jazz, Figueras' homage "Gato's Hat" is pure Carnival, the two saxophones mixing in a heady eutection of rhythm and melody. At once celebratory and introspective, the title cut, a Figueras original, a lullaby, smiles, featuring a narration by the composer before breaking into dance, offering vibraphonist
Karl Berger
and pianist
Rick Bottari
's rollicking solos before the quiet reprise in the coda. The disc closes with an expressive performance of "Por Una Cabeza," (the Tango featured in
Scent of a Woman
) that enable Figuers and Barbieri further wax nostalgic. A fine recording by any measure.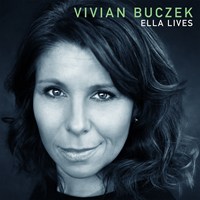 Vivian Buczek
Ella Lives
Prophone Records
2017
The one-hundredth birthday of
Ella Fitzgerald
has generated a spate of tribute recordings to the quintessential jazz vocalist, including:
Jane Monheit
's
Songbook Sessions: Ella Fitzgerald
(Emerald City Records, 2016),
Lina Orfanos
'
Essentially Ella
(Babinis Productions, 2016) and Patrice Williamson and Jon Wheatley's
Comes Love: A Tribute to Ella Fitzgerald and Joe Pass
(Self Produced, 2017). Swedish singer
Vivian Buczek
adds her two cents with
Ella Lives
. Buczek is supported with an impressive piano trio led by pianist Martin Sjostedt, whose touch is as sure as it is authoritative. His blues chops are readily apparent on "You'd Be So Nice to Come Home To" with his lengthy introduction before Buczek shows off her impressive chops. The singer works out Ellington's "Caravan" over a lush sonic palette, punctuated by Frederick Lindborg's throaty bass clarinet and Johan Lofcrantz Ramsey's percolating percussion. The singer and band excel on the Gershwin tunes, "The Man I Love" and "Lady Be Good," with well-balanced, spot-on performances. Ella Lives, indeed!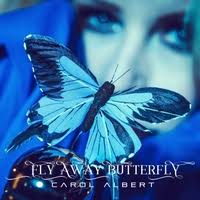 Carol Albert
Fly Away Butterfly
Self Produced
2017
Marvin Gaye. Yes, Marvin Gaye. His superb approach on 1971's
What's Goin' On
filtered through forty years, lays the groundwork for pianist/vocalist
Carol Albert
's eighth recording,
Fly Away Butterfly
. Flute and saxophone float above an undulating rhythm inform with adult contemporary recording. As soon as the listener ingests the Marvin Gaye the title tune and "Awakening," they are hit with a bright Earth, Wind & Fire groove on "On My Way," that is both infectious and funky.
Sam Skelton
's tenor saxophone on "Across the Sky" recall's a bit of 1970s UP40 ambient magic. Albert's piano is confident and deliberate, never overplayed, and on the rhythmic money. Her voice and delivery are likewise. Albert sings with whispers and cajoling: suggestive and sexy. The instrumental "Chasing Waterfalls" (not the TLC song) is suitably smooth in delivery and intent. The piece highlights
Chris Blackwell
's acoustic guitar and Skelton's saxophone, both swirling around Albert's central piano figure. This is smart, highly produced music that is, at once plush, ambient, and soothing.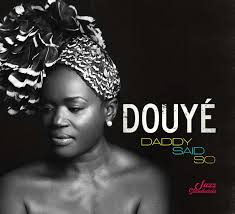 Douyé
Daddy Said So
Groove Note
2017
Yes. This Douyé is the same artist responsible for the R&B releases
Journey
(Rhombus, 2011) and
So Much Love
(Betsy Blue Music, 2014). So why the right turn? Douyé promised her dad that she would become a jazz singer and with
Daddy Said So
, She has done exactly that in pretty fine form. One of the most attractive things about this release is that it is a standards set. Not just any standards set, but 14 selections carved from the heart of the Great American Songbook. Breezy and languid,
Daddy Said So
is a showcase of artistry. Douyé sings "Nature Boy" as a duet with the bassist Ron Carter, while fronting the Kenny Barron trio on "Mood Indigo" and "I Loves You Porgy." "But Beautiful" and "All the Things You Are" feature tenor saxophonist Zem Audu and pianist Benito Gonzalez. "Lush Life" and "Sophisticated Lady" feature the singer with the late pianist Joel Scott with bass and drums added later. Pianist John Beasley steers the helm of "Round Midnight" and "In A Sentimental Mood" with saxophonist Bob Sheppard, bassist John Clayton and drummer Roy McCurdy. Douyé's voice is beautifully balanced, lacking vibrato in the same way
Chet Baker
's singing did, making for a warm, slightly dry delivery that is as soothing as it is provocative. This recording is important because of its exceptional programming and performance of standards. We all need to know where this music came from.
Instrument: Voice / vocals
Article Coverage
|
Calendar
|
Album Discography
|
Photo Gallery
|
Similar Artists
Post a comment