Jane Ira Bloom: Chasing Paint: Jane Ira Bloom Meets Jackson Pollock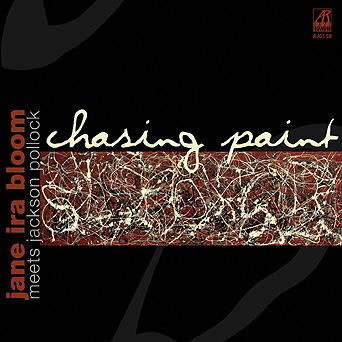 Jackson Pollock happens to be my favorite painter. Certain works have imprinted themselves on my eyes so permanently as to alter my sense of space, color, and the limits of expression. For this reason alone, Jane Ira Bloom's experimental homage
Chasing Paint
was both immediately fascinating and disturbing. Encountering Bloom's provocative compositions in this heightened state of preparation only made the experience that much more intense, hesitation's release leading deeper into the expressive and undeniably gorgeous space of Bloom's music.
Bloom's experiment is in fact much bolder and intellectually profound than it may first appear. Certainly, many musicians throughout time have approached sculpture, writing, and painting for inspiration, and vice versa. But what Bloom has done is significantly different because Pollack consistently identified jazz methodologies with his work. In some ways, then, what Bloom has attempted is a translation
into
sound of Pollack's transmutation
of
sound into color and movement. The result is a series of dense, explorative compositions, the faultless execution of which delineates the thoroughly progressive and acutely perspicacious nature of Bloom's writing.
From the contemplative opening piece, "Unexpected Light," to the closing magnum opus, "White Light," Bloom and her equally skilled bandmates evoke both the restive quality of Pollock's paintings, as well as the too often ignored sense of balance and meditative peace that exists parallel to the frenetic drama of his drips, spatters, and swirling colors. (On one exception, the unfortunate "Jackson Pollock," the dips and dabs of which quickly become facile.)
More profoundly, Bloom never falls into the dangerous trap often encountered by artists attempting to depict another medium's grandeur: an over-restricted, too literal adaptation which naively supposes a direct transferability of expression from one medium to another. Instead, she allows Pollock's methods, the endless interconnectivity of his paintings, to inspire a storm of sonorous peaks, variant densities, and shifting, colliding colors. There is fluidity in her music, harsh dissonance, rhythmic diversity, and a consistently smooth tone that remains sinuous and delicately balanced whether blasting frenzied freestyle improvisations, or fluently spinning almost translucently pure melodies.

Connections between Pollock's methods and those of free-jazz era musicians, most notably Ornette Coleman (just look at the covers of his reissues), have become irritatingly frequent. But only because Coleman's music truly does sound as if it emanates from the same source as Pollock's compositions. That's a fact which, perhaps most remarkably of all, Bloom acknowledges by emphasizing the solidity of this link while rising to the challenge of moving forward from Coleman's sound.


Bloom incorporates Coleman's (and thus implicitly Pollack's) advances into her pieces, applying the steady control of her own creative restraints to their cultivated abandon. In doing so, she induces a sense of Pollock without resorting to the simple ploys of the copyist. Bloom has absorbed the impact of Pollock's work, and presents the listener with both a vision of what Pollock, and expressionism, achieved, as well as what transpires when that achievement is absorbed and allowed to freely stir.
Track Listing
1. Unexpected Light 2. Chasing Paint 3. The Sweetest Sounds 4. On Seeing JP 5. Many Wonders 6. Jackson Pollock 7. Alchemy 8. Reflections of the Big Dipper 9. White Light
Personnel
Jane Ira Bloom: soprano saxophone, live electronics; Fred Hersh: piano; Mark Dresser: bass; Bobby Previte: drums.
Album information
Title: Chasing Paint: Jane Ira Bloom Meets Jackson Pollock | Year Released: 2003 | Record Label: Arabesque Jazz
Post a comment about this album