Album Review
Dan DeChellis: Chamber Music
By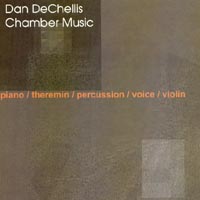 Free jazz (and I mean the
really
free stuff) can approach pure improvisation. But the more abstract it gets, the more it can also approximate noise. The same can also be said for a lot of the "modern classical" that took off after John Cage. So sometimes it's hard to say exactly what's going on in this kind of music (take Derek Bailey as an occasional example).
Chamber Music
, officially composed by Dan DeChellis but highly improvisational in its approach, leaves me wondering if I missed something. For the most part, I am unable to extract any kind of coherence out of this record.
DeChellis's quintet plays freely, deliberately, and quite staccato—which means that except for the occasional stretched-out vocals or violin, Chamber Music can be punchy territory. And that might make you wonder if the playing perhaps fits into a grander rhythmic design. But it really doesn't (at least to this listener's ears). But don't mind me—check this disc out if you're curious about one of the more extreme examples of "out" "chamber" music.
"How random is random?" asks Genesis P-Orridge (in the liner notes to a William S. Burroughs record).
(As a footnote to this discussion, the sound quality on Chamber Music is decent, but the dynamic range is dangerously huge—so handle this disc with caution, lest you blast your brains out.)
Track Listing
#1. Life on a Square; #2. Deliberate Steps; #3. Conversation Quench.
Personnel
Dan DeChellis, piano; James Coleman, theremin; Anita DeChellis, voice; Katt Hernandez, violin; Gary Fieldman, percussion.
Album information
Title: Chamber Music | Year Released: 2000 | Record Label: Sachimay Records
---
FOR THE LOVE OF JAZZ
All About Jazz has been a pillar of jazz since 1995, championing it as an art form and, more importantly, supporting the musicians who create it. Our enduring commitment has made "AAJ" one of the most culturally important websites of its kind, read by hundreds of thousands of fans, musicians and industry figures every month.
WE NEED YOUR HELP
To expand our coverage even further and develop new means to foster jazz discovery and connectivity we need your help. You can become a sustaining member for a modest $20 and in return, we'll immediately hide those pesky ads plus provide access to
future articles
for a full year. This winning combination will vastly improve your AAJ experience and allow us to vigorously build on the pioneering work we first started in 1995. So enjoy an ad-free AAJ experience and help us remain a positive beacon for jazz by
making a donation today
.
Instrument: Piano
Article Coverage
|
Calendar
|
Albums
|
Photos
|
Similar Artists
Post a comment about this album