Trombone
By
The trombone was an essential component of the brass parade bands that were a staple of black social and cultural life in many southern cities around the turn of the twentieth century. As these bands evolved into collectively improvising jazz ensembles, the trombone became an equal partner of the clarinet and cornet, filling in the root notes of the harmony and providing a low-register counterpoint to the melody line. The first black jazz band from New Orleans to record was led by the renowned Creole trombonist, Kid Ory (1922).
Starting in the mid 1920s, the rise of big bands led to the creation of trombone sections of two, three, and ultimately four (even five) players, and coincided with the emergence of the first major jazz trombone soloists. In 1927 Texan Jack Teagarden arrived in New York and raised trombone playing to new heights of technical virtuosity and soulful expression. Through the next decade and a half of the so-called Swing Era, the trombone remained a key player in jazz.
In the early 1940s the intricate lines and fast tempos favored by the beboppers posed new challenges for the apparently cumbersome instrument. But in time, J.J. Johnson proved that the innovations of Diz and Bird could be applied to the horn, setting new technical and artistic standards for subsequent generations of jazz trombonists.
Still, the demise of the big bands proved to be a setback for the instrument. Over the past fifty years, as smaller ensembles have come to dominate jazz, the trombone, all too often, has been looked upon as an afterthought. Many contemporary 'bone players have lamented its status as a "second class citizen" Nevertheless, the hard work and dedication of its current practitioners ensure that the trombone will continue to make a vital contribution to the evolution of jazz.
Jack Teagarden
An Introduction to Jack Teagarden: His Best Recordings, 1928-1943
(Best of Jazz, 1996)
The first important jazz trombonist, Teagarden was a gifted blues player, phenomenal improvisor, innovator in alternate slide positions—and a fine singer. A modest man, he rarely featured himself extensively, but even the briefest Teagarden solo is a gem, and usually the highpoint of any recording.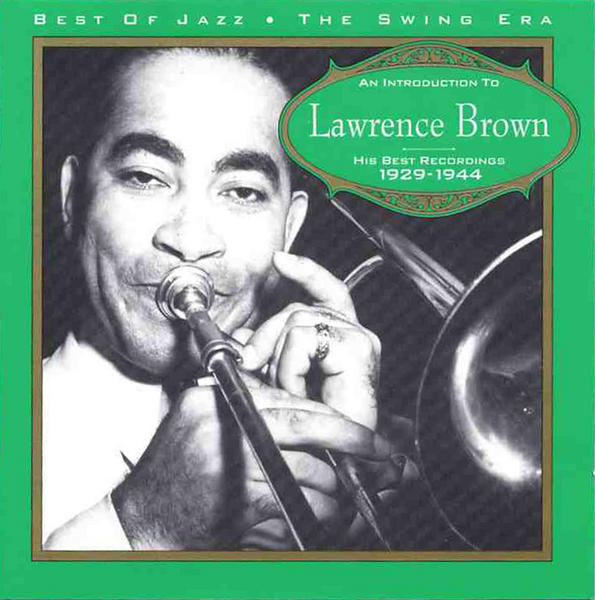 Lawrence Brown
An Introduction to Lawrence Brown: His Best Recordings, 1929-1944
(Best of Jazz, 2002)
This versatile virtuoso spent two spells (1932-50, 1960-70) as Duke Ellington's section leader and soloist. Brown's gorgeous tone ("rich as chocolate and smooth as velvet") and lyricism enrich ballads like "Sophisticated Lady," and he was a superb hot player, as on his signature tune, "Rose of the Rio Grande."
Dicky Wells
Americans Swinging in Paris
(EMI, 2002; original recordings, 1937)
During a European tour with the Teddy Hill band, this highly original and influential trombone stylist—an early J.J. Johnson favorite—cut twelve remarkable sides. "Lady Be Good" is an exuberant
tour de force
and "Dicky Wells Blues" is a real rarity for its time: a seven-chorus trombone feature.
Bill Harris
The Ex-Hermanites Featuring Bill Harris
(VSOP, 1957)
Although not, strictly speaking, a bebopper, modern jazz trombone begins with Harris, a major influence on boppers like Kai Winding, Frank Rosolino, Benny Powell, and avant-gardist Roswell Rudd. Joined by four fellow Woody Herman alumni, he applies his eccentric wit and charm to a menu of Herman favorites.
J.J. Johnson
The Eminent Jay Jay Johnson, Volume 2
(Blue Note, 1954-55)
The master craftsman's rich, dark tone, flawless command, facility with chord changes, solid swing, and ballad artistry are evident throughout these essential small group sessions. Everything Johnson did is worth hearing, especially the two-trombone "J&K" quintet he co-led with Kai Winding.
Frank Rosolino
Fond Memories of Frank Rosolino
(Double Time, 1973 & 1975)
These newly unearthed masterpieces present Rosolino with a Dutch rhythm section and the acclaimed Metropole Orchestra. His astounding range and flexibility, inexhaustible fount of ideas, fluid execution, and sense of humor were never better showcased than on "All the Things You Are."
Carl Fontana
The Great Fontana
(Uptown Jazz, 1985)
This "trombonist's trombonist," a veteran of the Woody Herman and Stan Kenton bands and a Las Vegas stalwart, did not record under his own name until quite late in his career. Fontana swings with a deceptive nonchalance, and "Polka Dots and Moonbeams" is as fine a ballad rendering as ever recorded on any instrument.
Slide Hampton
World of Trombones
(1201 Music, 1979)
No one has done (or is doing) more to present the trombone in a large ensemble context. Hampton's nine-bones-plus-rhythm unit featured the cream of NYC's young trombonists, circa 1979, plus veteran Curtis Fuller. At times, his sonorous charts make the group sound almost like a male gospel choir (e.g., "Chorale").
Al Grey
The New Al Grey Quintet
(Chiaroscuro, 1988)
Who could wring more drama or elicit more joy from the trombone than this undisputed master of the plunger mute? Whether it's a plunger blues ("Bluish Grey") or ballad ("Don't Blame Me"), or some swinging open blowing ("Sonny's Tune"), Grey never fails to tell an engaging, personal story.
George Lewis
The Solo Trombone Record
(Sackville, 1976)
The visionary Lewis made a bold recording debut with an unaccompanied album both rooted in the past and looking ahead to the future of jazz trombone playing. "Toneburst" is a formidable 20-minute piece for three (multi-tracked) trombones, and "Lush Life" explores new dimensions in lyricism.
Steve Turre
Steve Turre
(Verve, 1997)
Few modernists are as versatile or as firmly grounded in the instrument's history. This album finds Turre playing trombone (and sea shells) in ensemble contexts featuring, in various combinations, brass, a string quartet, Afro-Cuban percussion, and guest soloists J.J. Johnson and Britt Woodman.
Robin Eubanks
Get 2 It
(Orchard, 2001)
Eubanks has pioneered the use of electronic effects to enhance and alter the sound of the trombone. On this forward-looking recording, the best example to date of his unique vision, he shifts seamlessly between acoustic and electronic playing, always with the utmost integrity and musicianship.
Post a comment