Mat Maneri: Trinity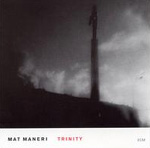 Understatement and subtlety are rare commodities in music. Of course, they also demand more from the listener. Mat Maneri's new solo disc,
Trinity,
features spare, careful playing—and the results are ecstatically beautiful. One has the feeling from listening to this record that Maneri has tapped into a higher power and chosen to channel the energies earthward. Each step is deliberate. Each note gets special attention. And the experience has surprising redemptive powers.
Unlike other violinists working in the idiom of free improvisation, Mat Maneri prefers to focus on the notes themselves, rather than any kind of sly trickery. Not to imply that Maneri lacks virtuosity or talent in the realm of so-called "alternative techniques"—he just makes a sincere effort to get down to the basics. Half of the ten tunes on his first solo record, Trinity, are Maneri originals. The other half come from like-minded exponents of the free jazz tradition: Coltrane, Dolphy, Shipp, Morris, and papa Joe Maneri. While he offers respectful homage to these composers, Mat Maneri takes each tune and makes it his own. (And Trinity offers a revealingly level of sonics that allow the listener to appreciate detail and nuance.)
By threading melodies around interspersed double-stops and pizzicato punctuation, Maneri achieves effects of harmonic continuity, continual evolution, and frequent surprise. Rarely content to dwell in the realm of theme-and-variation, Maneri sculpts developing fragments in an abstract, open-ended fashion. And while he endows each tune with its own individual character, one has the sense that Trinity is a continuous work, rendered by a single spirit. The closing track, rich with microtones, serves to remind the listener of how much music lies between the notes. Indeed, Trinity offers layers of complexity which bear examination upon repeated listening. That is, of course, in addition to the wonderful spiritual transportation the disc also makes possible.
Track Listing
Pure Mode; Almost Pretty; Trinity; Sun Ship; Blue Deco; Veiled; Iron Man; Lattice; November 1st; Lady Day
Personnel
Mat Maneri
Album information
Title: Trinity | Year Released: 2001 | Record Label: ECM Records
Post a comment about this album