Alan Silva and Oluyemi Thomas: Transmissions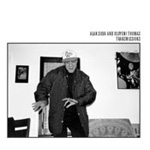 Having come full circle, bassist Alan Silva returns to his roots on
Transmissions.
Silva's experience with seminal improvisers since the '60s has earned him a resume that reads like an international who's who of free improvisation. (Ironically, however, he has not received recognition proportional to his work.) Silva discovered electronics in the '90s and seized the opportunity to experiment with synthesized music. But in the '99 live concert documented on
Transmissions,
he's back at the acoustic bass, playing in the idiosyncratic style of free improvisation he developed through decades of experience.
Silva offers a timeless sound on Transmissions, in the most abstract sense of the word. While exploring the full top-to-bottom range of his instrument, he mostly trades outright melodicism for resonant drones, scraping bowed sounds, and fractured double-stops. This abstract angular approach fits comfortably between the split tones of multi-instrumentalist Oluyemi Thomas. Thomas, whose recorded output got a late start in the early '90s, travels from rare moments of crystalline melodic clarity through regular sweeping multiphonics. His concern with overtones and harmonics parallels Silva's non-representational approach to the bass. The two players engage in a rich, if somewhat abstract, conversation throughout this hour-long live duo improvisation.
There is plenty of material on Transmissions to engage even the most stolid listener. Repeated listenings offer new rounds of discovery. It must be said, however, that this disc requires focus and attention. And Transmissions is strongly discouraged for anyone whose ears are not wide open to atonal music (defined here as the opposite of diatonal music, which relies on a root and standard chord changes). This is wide open territory: Silva and Thomas charge into it like there's no tomorrow.
Track Listing
Connecting With The Divine; Lofty Flight; Root & Branch; Offering to the Exalted One; Soft Flowing Waters.
Personnel
Alan Silva: bass; Oluyemi Thomas: bass clarinet, c-melody saxophone, wooden flute, percussion.
Album information
Title: Transmissions | Year Released: 2001 | Record Label: Eremite Records
Post a comment about this album