Multiple Reviews
The Narell Brothers: Steelpan Music Merchants
By
Steelpan musician,
Andy Narell
and his older brother
Jeff Narell
represent a game change in the status quo of island music and the instruments born in the Caribbean. Originally created as an musical accompaniment to celebrate Trinidad Carnival, the steelpan has evolved over the years to become a modern acoustic instrument family that supplies a range of unique timbres and tonals colours for all the world's music, including jazz and calypso.
Andy Narell
, with over 18 albums as leader or co-leader, and Jeff with four albums as leader, could be considered the first family of steelpan. These Americans have moved the music of the steelpan outside of the islands to explore global sonic and music possibilities and share them with new audiences. This compilation of capsule reviews of recent albums seeks a context for the Narell Brothers as modern music merchants successfully taking the music made of the sound born of the "audacity of the creole imagination" in the 1930s-1940s to the world.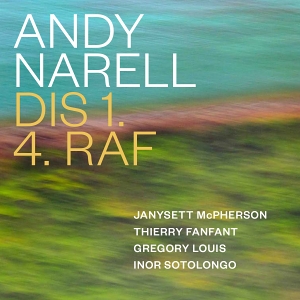 Andy Narell
Dis 1. 4. Raf
Listen 2 Entertainment Group
2016
As if driving home the point that the pendulum of commercial influence for steelpan appears to be moving away from Trinidad was not enough, now comes the new release by American steelpan musician Andy Narell that boasts not one, but two CDs of refined exploitation of the sound and ambience of the steelpan in the context of a jazz quintet and as musical partner with piano.
Dis 1. 4. Raf
, a tribute to the late Caribbean jazz pioneer Raf Robertson, is another rung in the ladder of success of Narell. With his cohort of players from Cuba and Guadeloupe, Narell on this album weaves a new path for the national instrument of Trinidad and Tobago to tread that encompasses influences beyond the archipelago. On the second CD, a duet, he juxtaposes the enhanced idea of modern percussive and rhythmic sounds from the New World—the steelpan—and the Old World—the piano—to subdued and subtle brilliance.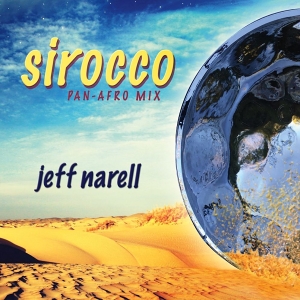 Jeff Narell
Sirocco
Self Produced
2015
Jeff Narell is the older brother of prolific steelpan recording artist Andy Narell, and together they were immersed into the world of the early steelbands—they participated in the Trinidad Music Festival on steelpans in 1966 as children—and have never looked back.
Sirocco
is Jeff Narell's fourth album as a leader, and finds him investigating the confluence between African percussion instruments and the New World invention of the steelpan. More than a simple dialogue between sounds and rhythms, this album showcases the link that has been suggested by ethnomusicologists as part of the syncretism—the merging of different cultures—evident in Caribbean music. The tunes explore melodies and sonic influences from both ends of the middle passage that show the retention of the African sound. Talking drums, djembes, strings and chants are interwoven with melodies from the Caribbean to make this a useful album that showcases the steelpan in a different and important light.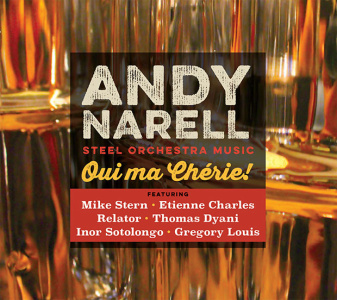 Andy Narell
Oui ma Chérie!
Listen 2 Entertainment Group
2015
Trinidadians are notoriously protective of their national instrument, the steelpan, so much so that when iconoclastic American pannist Andy Narell releases a new CD, the chauvinistic hubris echoing among local voices can and does sting. Narell's riposte in this instance is an album of five long musical interludes, a balance of originals and Trinidad song /calypso that defines broader genre options for the steelpan. Jazz dissonance and tropical rhythms that suggest the wider Caribbean outside of Trinidad move the body of music for the instrument several steps ahead. Narell single-handedly plays all the parts of a small steel orchestra to capture with near sonic perfection the timbre of the modern steelband, and blends it with solo guitar and trumpet to imagine newer possibilities. After 18 previous albums, it is clear that the sound born of "the audacity of the creole imagination" in Trinidad is now global, and this album is apt proof of Narell's significance.
Tracks and Personnel
Dis 1. 4. Raf
Tracks: Dis 1. 4. Raf; Abacoco; Para Quel Bailes Mi Rumba / Dance Class; Dee Mwa Wee; The Last Word (Oui Ma Chérie); A Dazzle of Zebras; If We Really Want; Moment's Notice; If I Only Had a Brain / Somewhere over the Rainbow; Izo's Mood; Oleo; There Will Never Be Another You; L'hymne a L'amour.
Personnel:
Andy Narell
: steelpans; Janysett McPherson: piano; Thierry Fanfant: bass; Inor Sotolongo: congas, percussion; Gregory Louis: drums.
Sirocco
Tracks: Babam; Sirocco; Step By Step; Rise Up; Heroes; Blue Afrique; Theme For The Lost Boys.
Personnel:
Jeff Narell
: steelpans, percussion, keyboards; Mola Sylla: vocals;
Linley Marthe
: bass;
Pope Flyne
: percussion; Bo Razon: strings;
Daniel Moreno
: percussion; Petite Adama Trio: percussion; Mamadou Sidibe: kamale ngoni;
Awa Sangho
: vocals; Manjou Kone: background vocals; Isaac Narell: flute, saxophones;
Steve Carter
: keyboards;
Josh Jones
: drums;
David Belove
: bass.
Oui Ma Chérie!
Tracks: Forward Home; Visibly Absent; Lenore's Well; The Last Word (Oui ma chérie); One More Touch.
Personnel:
Andy Narell
: steelpans, iron; Inor Sotolongo: congas, percussion; Gregory Louis}}: drums;
Mike Stern
: guitar;
Etienne Charles
: trumpet; Relator: vocals; Thomas Dyani: djembe; Mathieu Borgne: scratcher.
---
FOR THE LOVE OF JAZZ
All About Jazz has been a champion of jazz since 1995, supporting it as an art form and, more importantly, supporting the musicians who create it. Our enduring commitment has made "AAJ" one of the most culturally important websites of its kind, read by hundreds of thousands of fans, musicians and industry figures every month.
WE NEED YOUR HELP
To expand our coverage even further and develop new means to foster jazz discovery and connectivity we need your help. You can become a sustaining member for a modest $20 and in return, we'll immediately hide those pesky ads plus provide access to
future articles
for a full year. This winning combination will vastly improve your AAJ experience and allow us to rigorously build on the pioneering work we first started in 1995. So enjoy an ad-free AAJ experience and help us remain a positive beacon for jazz by
making a donation today
.
Instrument: Drums, steel
Article Coverage
|
Calendar
|
Albums
|
Photos
|
Similar Artists
Post a comment