Take Five With Jair-Rohm Parker Wells
Meet Jair-Rohm Parker Wells: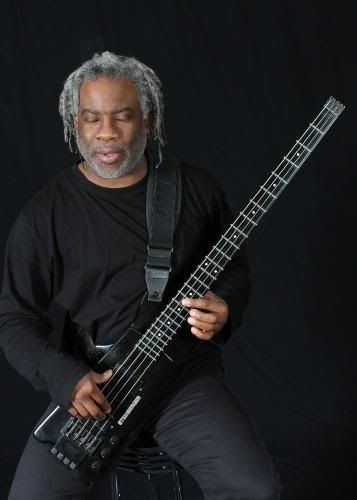 Jair-Rohm Parker Wells is an improvising musician based in Stockholm, Sweden. Curator of the MEETING series of festivals and developer of Loopadelica, a method of improvising with looping devices. Bassist with the improvising trio Decision Dream. Current with the releases
AMDG (Ad Majoram Dei Gloriam)
on Klanggold and
Meditations on Albert Ayler
on Ayler Records.
Bio: American bassist, composer, programmer, conceptualist and record producer Jair-Rohm Parker Wells has been a resident of Stockholm, Sweden since 1985, he is widely recognized as a highly individual voice on the electric bass guitar, Ashbory bass, Fichter electric double bass and acoustic bass guitar, he has also distinguished himself as a programmer and synthesist developing with Max/MSP, Csound, Java and hardware modular synthesis systems. As a record producer and composer he has collaborated with many of the more prominent names in the international art world such as: Rhys Chatham, Peter KihlgŚrd, Machine Gun, Lydia Grey, Johannes Bergmark, Daniel Carter, Magnus Alexanderson, Tony Bianco, Robert Musso, Elliott Sharp, Olaf Rupp, Reeves Gabrels and the legendary Finnish band Kra.
Instrument(s):
Bass guitar, electric upright bass.
Teachers and/or influences?
Jimmy Woode
, my mother,
Albert Ayler
I knew I wanted to be a musician when...
I was born.
Your sound and approach to music:
Music is the other method by which we control time and space.
Your teaching approach:
I don't.
Your dream band:
My dream band was the version of Doom Dogs with Reeves Gabrels and Lance Carter. That won't happen again. I'm looking forward to performing next year in a small group with Jaron Lanier. This is very promising.
Favorite venue:
Most festivals count among my "favorite venues." The 2009 Nordischer Klang Festival was an outstanding experience. I played the Groningen Jazz Marathon with Machine Gun in 1995.
Your favorite recording in your discography and why?
The
Meditations on Albert Ayler
release on Ayler Records with Luther Thomas and Tony Bianco. Besides being one of Luther's last fully improvised sets, it was an opportunity to explore the concepts and themes of Ayler's approach which was/is an immensely purifying experience.
The first Jazz album I bought was:
It could have been something by
Louis Armstrong
back in the 60s. Perhaps the
Hello Dolly
LP.
What do you think is the most important thing you are contributing musically?
Freedom.
Did you know...
I was trained as a hairdresser.
How would you describe the state of jazz today?
Wow, what is jazz?
What are some of the essential requirements to keep jazz alive and growing?
Jazz musicians need to keep playing the music. In order to do that, jazz musicians need to stay alive. It's a tricky proposition.
What is in the near future?
Getting back to performing solo. I'll also do more trio performances/recordings. I have to get back over to the US to do some playing and connect with some of my main influences.
If I weren't a jazz musician, I would be a:
Code poet.
---