Results for "Yaron Elyashiv"
For a long time modern jazz has been misrepresented to the public as music for musicians. Noted for his fresh approach to jazz, saxophonist and composer Yaron Elyashiv stays true to tradition as he keeps looking forward into the future.

Originally from Israel, Mr. Elyashiv has already been making a name for himself after only two years in New York, leading his groups at the legendary Minton's Playhouse, Silver Spring Jazz Festival, and a live radio broadcast at the WBGO studios in Newark. Some of the clubs he performed include Saint Nick's Pub, Sweet Rhythm, Fat Cat, Jules Bistro, The Greenwich Village Bistro as well as The CUNY Jazz Festival
In many discussions about jazz's future, people have argued that the Internet will be the next 52nd Street for the music. Sadly, like many things Web, there has been more sizzle than steak. But not always--this past weekend I played a gig with the All About Jazz Orchestra (AAJO), a group that existed purely in binary ...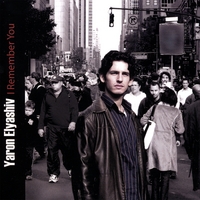 Label: Jazzing Music
Released: 2008