Results for "The Richard Sussman Quintet"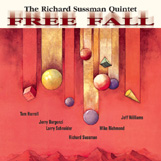 The re-release of a classic... Formerly released on Inner City records in 1979, Richard Sussman's Post Bop masterpiece Free Fall languished for several years before being revived by Jamey Aebersold and Double Time Jazz Records. It is odd that as fine a recording as this is, Sussman recorded only once more for Inner City Records ( ...
Originally released on "Inner City Records" in 1978, this reissue sounds as fresh and cutting-edge as just about anything that resembles contemporary mainstream/progressive jazz! Pianist, Richard Sussman sports a very impressive resume; evidenced by his work with "Blood, Sweat & Tears," Buddy Rich, pop vocalist, Carly Simon, and others. Besides, he also composed a portion to ...