The Richard Sussman Quintet: Free Fall
BY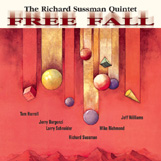 The re-release of a classic...
Formerly released on Inner City records in 1979, Richard Sussman's Post Bop masterpiece Free Fall languished for several years before being revived by Jamey Aebersold and Double Time Jazz Records. It is odd that as fine a recording as this is, Sussman recorded only once more for Inner City Records ( Tributaries, 1980).It is a pity, because this maiden voyage smacks of subtle brilliance. Sussman was savvy enough to bring on board a young and healthy Tom Harrell, virile Jerry Bergonzi, and a cerebral Larry Schneider. Sussman, who supplies an intelligent and empathetic piano, penned all of the pieces.
Recordings like this would never have been realized had Miles Davis formed his second great quintet and made his mid- '60s Columbia recordings. This music was a loosening of the belt (as opposed to losing the belt the belt that Coleman and Coltrane advocated). I would define it as liberated form. There remain milestones in the music, but the notes are given that extra degree of freedom to go where they wish. Richard Sussman produced a truly great document, long overdue for re-release.
Track Listing
The Lady Of The Lake; Free Fall; The River; Street Pair; Dance Of The Spheroids; Colors; Tiahuanaco. (Total Time: 47:50).
Personnel
Tom Harrell: Trumpet, Flugelhorn; Jerry Bergonzi: Tenor Saxophone; Larry Schneider: Tenor Saxophones And Flutes; Mike Richmond: Bass; Jeff Williams: Drums.
Album information
Title: Free Fall | Year Released: 2002 | Record Label: Double-Time Jazz
Post a comment about this album