Results for "Sandy Asirvatham"
Instrument: Voice / vocals
Article Coverage
|
Calendar
|
Album Discography
|
Photo Gallery
|
Similar Artists
Results for pages tagged "Sandy Asirvatham"...
Musician
Born:
Sandy Asirvatham—known artistically as Sandhya—is a writer, musician, and producer living in Baltimore, although forever a New Yorker at heart. After earning a BA and MFA from Columbia University, she worked prolifically for several years as a freelance journalist and young adult nonfiction author, and was twice awarded with a Best Columnist honor by the Maryland Association of Professional Journalists. At 33 or so, in the midst of cascading personal crises, she got pulled back into an old childhood dream. Via obsessive study and practice, she willed herself into the role of working jazz pianist and singer
Album
Label: JazzGrrl Music
Released: 2021
Track listing: Monster; Mark Me; Better; Ode To Nick Drake; Last Two Standing; Lost Child; The Neighbors; Innocent; Petting Zoo; All Purpose Lament; Last Two Standing,
Song of the Day
Album: Innocent Monster
By Sandy Asirvatham
Label: JazzGrrl Music
Released: 2021
Duration: 3:00
News: Recording
Sandhya (SAHN-dia), is poised to break nationally with her newest project, Innocent Monster (Asirvatham / JazzGrrl Music) on May 14th! This art rock album contains ten original songs featuring vivid lyrics over deep-pocket grooves, all tied together by Sandhya's charismatic voice and bold choices at the piano. It embodies a throwback, '70s-'80s-'90s FM radio sensibility that ...
Article: Live Review
by Paula Phillips

Oxygen for the Ears: Living Jazz Oxygen for the Ears is a 2012 award-winning documentary film depicting the vibrancy of the jazz scene in the nation's capital. Made in three years by German-born astrophysicist Stefan Immler, the 94-minute documentary shows the city's key role in the past, present and future of jazz and is gaining attention ...
Album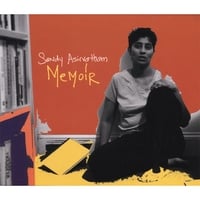 Label: JazzGrrl Music
Released: 2007