Results for "Melanie Mitrano"
Musician
Melanie Mitrano is a singer-songwriter whose vocal and compositional styles span many genres from jazz to classical, avante-garde, and Broadway. "All Things Gold," her most recent album, features "straight-up acoustic vocal jazz in a champagne glass – swinging, clean, cool and refined." To date, six of the songs on the disc have won compositional awards. Brazilian music also factors heavily into Melanie's artistic profile. Fluent in Portuguese, she performs Brazilian standards and also pens her own Portuguese-language songs. Melanie is a member of and two-time grant recipient from the New York Women's Composers and a winner of numerous composition awards from the Songwriters Association of Washington, ASCAP, Billboard, and the Summit City Art Song Festival
Album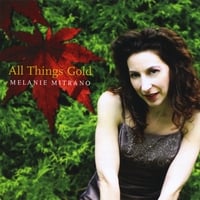 Label: Self Produced
Released: 2010
News: Recording
All Things Gold, the debut jazz album from singer-songwriter Melanie Mitrano, represents a daring new direction for this classically-trained artist. "I'm not even sure how my lifetime as a classical musician led me here," the singer muses, "but thankfully I fell in with a group of smart, capable people who guided me well." Those capable people ...