Results for "Infantry of Leaves"
Album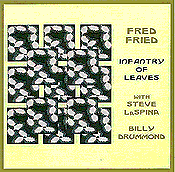 By Fred Fried
Label: Ballet Tree
Released: 2003
Track listing: 1. Infantry of Leaves 2. Gale 3. Secrets Told Softly 4. Lullaby 5. Andromeda 6. There 7. Late Bloomer 8. Smile Through 9. Samsara 10. Sun Descending
Article: Album Review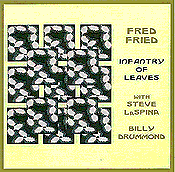 by Franz A. Matzner

As usual, it is difficult to decide which is more graceful, 7-string guitarist Fred Fried's composing or his playing. On 2001's Infantry of Leaves , Fried and his trio mates, Steve LaSpina on bass and Billy Drummond on drums, present ten new Fried compositions. Each is a marvel of depth and balance, and ...