Fred Fried: Infantry of Leaves
By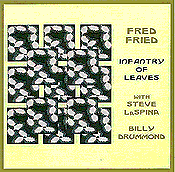 As usual, it is difficult to decide which is more graceful, 7-string guitarist Fred Fried's composing or his playing.
On 2001's
Infantry of Leaves
, Fried and his trio mates, Steve LaSpina on bass and Billy Drummond on drums, present ten new Fried compositions. Each is a marvel of depth and balance, and despite the seemingly taut harmonic and melodic structure, all three musicians find plenty of space for inventive improvisation, both individually and as a group. Characteristically, no one in the group overpowers the others. Those in search of brash displays and extravagant blasts of power should look elsewhere. All three musicians rely on blending unfailingly delicate placement, phrasing, and subtle interpretation to build a consistently emotive experience.
Interpreting material with a subtle and deceptively smooth pianistic style, Fried does more than create jazz's typical, breakneck lines, though he is capable of doing so. Instead, he simultaneously presents both harmonic and melodic ideas. By taking full advantage of the low A on his 7-string guitar, Fried employs a distinctively colored and fluid style that matches well with the lyrical and harmonically adventurous compositions found on this release.
The album begins with the gentle crescendo, "Infantry of Leaves," and closes with the stirring "Sun Descending." Other tracks of particular note include the poignant "Lullaby," on which LaSpina bows a forlorn background; the contemplative "There" featuring another pivotally insightful solo by LaSpina; and the rhythmically intriguing "Samsara." Drummond's careful accents and cymbal work come to the fore in this last piece, as does the group interaction.
Fundamentally concerned with exploring the emotive potential of the guitar, Fried's music is extremely personal and spiritually open. This leaves the listener with the feeling that Fried has not only shared something of great value to himself, but has offered it to the listener in order that they may also explore the music's varied resonance.
Fried never dictates. He beckons.
Track Listing
1. Infantry of Leaves 2. Gale 3. Secrets Told Softly 4. Lullaby 5. Andromeda 6. There 7. Late Bloomer 8. Smile Through 9. Samsara 10. Sun Descending
Personnel
Fred Fried: acoustic 7-string guitar, Steve LaSpina: bass, Billy Drummond: drums.
Album information
Title: Infantry of Leaves | Year Released: 2003 | Record Label: Ballet Tree
Post a comment about this album