Results for "Chris Calloway"
Chris Calloway (daughter of the legendary Cab Calloway) passed away in the summer of 2008 after bravely surviving breast cancer for 18 years. Chris made her home in Santa Fe for many years, where she was known as the "Reigning Diva of the Night". Her consummate talent as a singer combined with her comic timing, her irreverent humor, her ability to laugh at herself and her circumstances set her apart as a performer.
The Fathers Day broadcast included new releases from Ayelet Rose Gottlieb, Roxy Coss, Anat Cohen and Camila Meza, with birthday shout outs to the songwriters Irene Higgenbotham, Ivan Lins and Cy Coleman, pianists Geri Allen, Monika Herzig and Daryl Sherman, vocalists Nancy King, Alicia Olatuja, and harpist Carol Robbins, among others. Plus we hear from some ...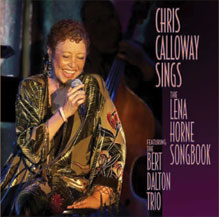 Label: Emphasis Music
Released: 2009