Album Review
The Ganelin Trio: Strictly for our Friends
By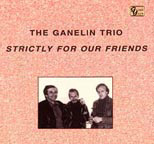 Evolutionary biologists fret constantly about the long-term consequences of isolation. The giant tortoises of the Galapagos Islands and the mutant flowers of Hawaii provide two examples where species have run rampant in isolation. In this era of immediate communication and internet accessibility, one often forgets that music has also undergone similar experiences. Political forces, driven by the Communist agenda, offered crushing isolation to experimental musicians in the Cold War-era Soviet Union. In this environment, the Ganelin Trio actually managed to get recordings released by the state-run label, Melodia. (Someone up top must have been asleep at the wheel, because the Ganelin Trio was offering some of the most adventurous and convention- defying improvisation around.)
The name behind the Ganelin trio belongs to pianist Vyacheslav Ganelin, but this trio exudes democratic energy. Drummer Vladimir Tarasov and reed player Vladimir Chekasin each speak with a distinctive voice, and the real excitement behind this group comes from the unusual ways these three outspoken individuals come together. While other Ganelin Trio records offer fierce energy (and sport flashy Italian names), Strictly for our Friends documents a user-friendly side to the group. Tunes on this live recording smuggled out from Moscow in 1978 vary from old-time swinging jazz (as on "three") to delicate lyricism (as on "five") to extroverted free-bop (as on "six"). But generally, the independent spirit of these three musicians shines through in configurations that remain accessible. The imperfections in the recording (to be expected given its history) offer minimal hurdles to listening enjoyment.
Of course, with the political isolation imposed upon the Ganelin Trio by the higher powers of state-controlled art, their ensemble sound offers distinctive features not found in free world recordings. Vyacheslav Ganelin's piano explorations share some concepts with Western musicians like Misha Mengelberg or Cecil Taylor, yet they reflect a determinedly individual voice equally influenced by classical harmony and rhythm. And while multi-reedist Vladimir Chekasin visits the extreme sonorities available through his instruments, he avoids the squeak-and-squawk clichés that pervade alternative techniques from American and Western European jazz of the era. Strictly for our Friends is just that, and it's a wonder this group had any enemies.
Track Listing
Play one; Play two; Play three; Play four; Play five; Play six; Play seven; Play eight.
Personnel
Vyacheslav Ganelin: piano; Vladimir Tarasov: drums; Vladimir Chekasin: reeds.
Album information
Title: Strictly for our Friends | Year Released: 2001 | Record Label: Golden Years of New Jazz
Post a comment about this album