Conference Call: Spirals: The Berlin Concert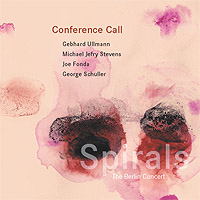 Hey, come on over and listen in to a Conference Call. There have been two well worth listening to in the past. As before, there is a new drummer in tow, George Schuller coming in place of Matt Wilson, who in turn had replaced Han Bennink. Sure, Wilson and Bennink have individualistic styles, but don't turn a deaf ear: Schuller's approach stokes the rhythm and the guys up front continue to be in fine fettle.
The initial probe is set by Joe Fonda on the bass and Gebhard Ullmannn takes that strain on the tenor sax in wistful undulation before Michael Jefry Stevens let's his piano stamp the harmonic line that gradually powers in intensity, an urgent essaying of the melodic landscape which is dotted by Schuller on the offbeat. It coalesces in a dark, moody ambit, the punctuation of Stevens going against the shifting images of Ullmann with his honks, wails and linear transformations. "Comeuppance"? Sure, if it means a heady, heated happening!


The approach to "Dreierlei" is more open-ended. The pace is deliberate at the outset, with Fonda setting the tempo, he has a wonderful solo spot on which he engages in a little dialogue with himself, against the bustle of Schuller. Stevens pulls in a sparkling array of notes and Ullmann bides his time, his soprano at first an airy flirt but later, a cutting swath, embedding deeply etched lines and augmenting them with loopy ones.


The mood changes to a sombre one on "Translucent Tones." Stevens brings in a serene, almost fragile ministration, with Ullmannn cutting edge against the grain first on the bass clarinet and then on the tenor. It is appropriate that this song follows "Three" where truth and turmoil gather. More power to Fonda and the band for their stand!


Visit 482 Music on the web.
Track Listing
Comeuppance; Dreierlei; Little Pete
Personnel
Gebhard Ullmann
Album information
Title: Spirals: The Berlin Concert | Year Released: 2004 | Record Label: 482 Music
Post a comment about this album