Michael Weiss: Soul Journey
By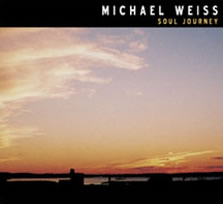 Pianist Michael Weiss took home the Grand Prize in the 2000 BMI/Thelonious Monk Institute's Composition Competition for his song "El Camino," which is included on
Soul Journey
. This Latin-flavored mainstream beauty features three-horn harmonies and tasty soloing all around. "El Camino" is a sure winner, but the CD is full of other fine Weiss-composed songs: the upbeat opener, "Optimism"; the brooding title tune; and the brassy "Second Thoughts."
The septet takes a very mainstream approach—a three horn front line (trombone/trumpet/alto sax) and a standard jazz rhythm section, plus an additional percussionist. An Art Blakey approach, though with a smoother sound, harmony more in the forefront of the proceedings, and glowing unison blowing. Ryan Kisor stands out on trumpet solos with his buttery smooth tone.
It's the songs, though, that star on
Soul Journey
. And though Weiss doesn't call attention to himself as an instrumentalist, additional listens reveal a richness to his own solos, a smooth and understated eloquence. He tells stories when it's his turn: structured mini-songs—beginning, middle, end—slipped into the middle of the compositions. Another listen, and Steve Wilson's trombone solo on "La Ventana" sparkles. Then there's the very "jazzy" workout "The Cheshire Cat", where trumpeter Kisor sings a cool song before altoist Steve Wilson brings things back to a simmer.
A standout effort by Michael Weiss and crew.
Visit Sintra Records at
www.sintrarecords.com
and Michael Weiss at
www.michaelweiss.info
.
Track Listing
Optimism, El Camino, Soul Journey, Orient Express, Atlantis, The Prophecy, The Cheshire Cat, La Ventana, Second Thoughts
Personnel
Michael Weiss, piano, Fender Rhodes; Steve Wilson, alto sax; Ryan Kisor, trumpet, flugelhorn; Steve Davis, trombone; Paul Gill, bass; Joe Farnsworth, drums; Danile Sadownick, percussion
Album information
Title: Soul Journey | Year Released: 2003 | Record Label: Sintra Records
Post a comment about this album