Fran: Play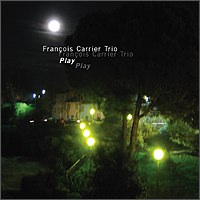 If technique and imagination are the spirit of improvisation, then the François Carrier Trio has a brimful. Here are three musicians whose travelogue would make the most jaded witness sit up and take notice, attention and marvel at the way they scope the terrain and then mark it with their personal landmarks. What they construct is at once captivating and mesmerizing. Time is the essence and they take their own to build layer upon layer, soul and passion the creation of their endeavour.
Carrier is the herald, his saxophone carving out long lines that loop and grab space, holding it for Pierre Côté, whose arco oozes warmth as it snuggles in or for the terse time that Michel Lambert imparts. Improvisation does not deny melody, and that facet comes out invigoratingly on "Le Marais," but it is soon scattered as a pulsating rhythm sets in with all three pushing the boundaries in a rising swell. That indeed is a great tune, and if that gives improvisation its due, so does the aptly named "Open Conversation." Carrier blows hard, scathing lines that soar and dive, lay back and ruminate, and explore every little nook in short flurries. Calm is bestowed through the bow of Côté even as Lambert gives the kick and the punch to the drums. The pieces fit in perfectly.


The two composed tunes on this record are the longest, clocking in at over ten minutes each. "Insomnie" won't give you that. It has a soft spark that burns through Lambert, who lights the pulse, and in the flowing, open tone that Carrier introduces. "La Danse de Grand-Mie" is a waltz, and oh so beautiful! Along the way, it gets rugged and intense, but there is no broken seam, just an extension that is a natural outcome of inspiration.
Track Listing
Play; Le Marais; Open Conversation; Insomnie; Ballet; Ink; La Danse de Grand-Mie; Unloaded
Personnel
Fran
Album information
Title: Play | Year Released: 2005 | Record Label: 482 Music
Post a comment about this album