Phil Urso and Carl Saunders: Phil Urso and Carl Saunders Salute Chet Baker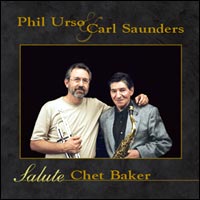 The East and West Coast varieties of jazz in the '50s and '60s were as unique and identifiable as the same hip-hop genres they predated. The great purveyors of the West Coast Sound'Art Pepper, Bill Perkins, Hampton Hawes, Shorty Rogers, Bud Shank, Gerry Mulligan, Chet Baker, and Phil Urso'were all able shake over ice the hot bebop of the East Coast, producing a dry and complex brand of modern jazz. The latter two names of this group are forever linked in the development of the Left Coast patois.
Phil Urso was a fixture on the West Coast as a sideman in the 1950s and '60s. Until now, he is credited with merely three recordings as a leader between 1953 and 1986. He was a mainstay in Chet Baker's late 1950s groups, spending a total of 12 years. He performed on such notable Baker recordings as Chet Baker Big Band, Playboys, Picture of Heath and Chet Baker and Crew. After a 17-year hiatus as a leader, the 79-year-old Urso returns to pay homage to his former boss.
Joining Mr. Urso is trumpeter Carl Saunders. Mr. Saunders has been active as a jazz musician in the Los Angeles area and is a veteran of the Stan Kenton, Benny Goodman, Maynard Ferguson, and Harry James Orchestras. He has an informed hot bop style that is much in contrast to that of Baker's, which helps offer a true hommage rather than a mere imitation. The up-tempo tunes rock with a Bakerian confidence. Al Haig's "Jumpin' Off a Clef" and Hal Galper's "This is the Thing" swing with an effortless frenzy that recalls in full force the heyday of WCJ. Hank Mobley's exquisite "Funk in Deep Freeze" allows Urso and Saunders to explore diamond-hard bop and "My Funny Valentine" allows for a broadening of Baker's original vision.
This Salute to Chet Baker is a wonderful throwback, expertly pulled off by two guys who helped write the book of West Coast Jazz.
For more information, please see Jazzed Media .
Track Listing
Jumpin? Off A Clef; For Minors Only; Halema; Mister B; Funk In A Deep Freeze; My Funny Valentine; Baby Breeze; Way To Go; Worryin? The Life Out Of Me; Line For Lyons.
Personnel
Phil Urso, Tenor Saxaphone; Carl Saunders, Trumpet; Keith Waters, Piano; Colin Gieg, Bass Paul Romaine, Drums.
Album information
Title: Phil Urso and Carl Saunders Salute Chet Baker | Year Released: 2004 | Record Label: Jazzed Media
Post a comment about this album