Sainkho Namchylak: Nomad
By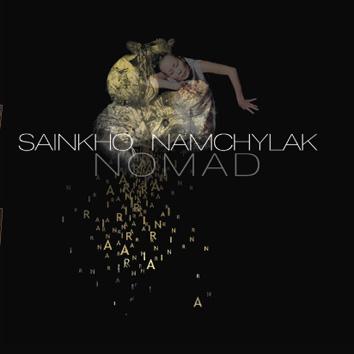 This album is a compilation to mark Sainkho Namchylak's fiftieth birthday. It brings together examples of her work in different styles, recorded for various labels—not just Leo—over the past twenty years. The album opens with a brief example of the remarkable sounds that first made many aware of Namchylak back in the late '80s, the high pitched ululating and howling that sounds more like a primate's cry than a human voice.
Peppered through the album are other examples of the incredible sounds that have issued from Namchylak's mouth, the low frequency sustained drones of "Deep Blue and "Initiation Trio Part 1, and the chilling bass rasps of "Red-orange that sound like demonic possession—worthy of Linda Blair in The Exorcist. If these were all she had to offer, Namchylak would be renowned but would probably not have sustained the interest she has for two decades.
Instead, here are examples that demonstrate the full range of her voice and her ability to sing folk and jazz as well as avant-garde and improv: the wordless purity of the beautifully melodic "Spring ; "Temple of Majtreja, with its piano accompaniment and jazz inflections; the driving percussion and jungle sounds recorded live at Porgy & Bess . The overwhelming feeling that Namchylak's voice conveys is one of freedom—freedom to float, freedom to swoop, freedom to soar. Listening to her, it seems that a human voice can do anything.
So extraordinary is Namchylak, with her seven octave range and ability to produce a vast range of sounds, that it is unbelievable that all the singing here is by the same person. This is an extraordinary album. As a showcase of what Namchylak is capable of, it works fine; as an introduction to her work, it works fine. As an album to be listened to at one sitting it may be just too diverse to be coherent and satisfying—an album of good tracks rather than a good album. For that, check out other Namchylak albums on Leo—maybe starting with 2007's Tuva-Irish Live Music Project.
Track Listing
Transformation of Matter; Spring; Red-orange (solo); Red-orange (solo); Introduction; A Yurt by the Lake; Deep Blue; Temple of Majtreja; Encore: Live at Porgy & Bess; Leaving home; Two Tone Tuva; Letter 6; Initiation Trio Part 1; Epilogue.
Personnel
Sainkho Namchylak: voice; many others (no details given).
Album information
Title: Nomad | Year Released: 2007 | Record Label: Leo Records
Post a comment about this album
---
FOR THE LOVE OF JAZZ
All About Jazz has been a pillar of jazz since 1995, championing it as an art form and, more importantly, supporting the musicians who create it. Our enduring commitment has made "AAJ" one of the most culturally important websites of its kind, read by hundreds of thousands of fans, musicians and industry figures every month.
WE NEED YOUR HELP
To expand our coverage even further and develop new means to foster jazz discovery and connectivity we need your help. You can become a sustaining member for a modest $20 and in return, we'll immediately hide those pesky ads plus provide access to
future articles
for a full year. This winning combination will vastly improve your AAJ experience and allow us to vigorously build on the pioneering work we first started in 1995. So enjoy an ad-free AAJ experience and help us remain a positive beacon for jazz by
making a donation today
.