Live Review
No hay ritmo como "Cachao": Lincoln Jazz Concert Series at Miami Dade Concert Auditorium
By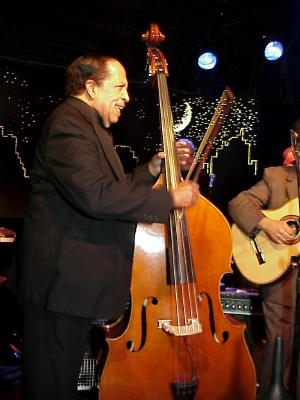 A salient benefit of residing in South Florida is an octogenarian called
Israel López "Cachao."
The venerable master keeps shrinking and walks in short shuffled steps. Once his powerfully nimble hands grab the double bass, however, he seems to be intravenously connected to the
Fountain of Youth
. He belongs to that rare breed of musical performer who never ever ages and whose expressions remain ever fresh, challenging, pertinent, humorous, swinging, and with remarkable caliber. Place him in charge of a musical ensemble and everyone's rust is removed as if through
Blastomatic
. On the night of August 3, at the
Miami Dade Concert Auditorium
, the Lincoln Jazz Concert Series presented him, alongside other headliners such as
Roberto Perera
,
Néstor Torres
,
Carlos "Patato" Valdés
, and
Dave Valentín
.


The well-received presentation featured works from Argentinean, Cuban, Paraguayan and Puerto Rican writers. With scant exceptions, all the repertoire performed has achieved standard status. Since most of the youngest members of the audience were middle-aged -with a sizable portion of said attendees even older than that- having a foundation of standards upon which to elaborate was the wisest path towards customer satisfaction in Miami. Having said that, experiencing a little girl's reaction to the music performed throughout the night -perhaps of the same age as my own 3-year-old granddaughter- confirms the bright future of this living music. She obviously loved it and audibly edged the musicians on with her lovely call of "dale, dale" (go on, go on). Although the musicians couldn't hear her beckoning, they sure acted like they heard the challenge.



Accompanied by a local ensemble, with the sole exception of pianist Alfredo Valdés, Jr. who came from New York, "Cachao" shared the bulk of the leadership with Torres and Valentín. They also played a large role as masters of ceremony. As such, they were entertaining, informal and charming. The concert, on the other hand, took off with a heated musical exchange in a characteristic jam penned by "Cachao." Similar tunes reproduced, to larger or lesser measure, the steady-yet-highly-fluid and deeply conceived bass lines that carried most of the night's music.
Two conga players, with five drums among themselves, provided rhythmic foundations for all to depend upon, while the masterful timbale work locked everyone in while achieving the corresponding groove and feel for this type of music. The brass kept up with everything thrown in -both written and improvised. At times, nonetheless, -both during the soloing and the ensemble work- it was obvious that the lack of opportunity to perform this type of music at this level catches up with the technique and capacity to perform of even the best musicians. Even so, the brassy three deserved to share the spotlight as much as they did throughout the night. Unfortunately, the master violinist Federico Britos was understated in the mix and perhaps even underutilized. What got through from him, though, was on the spot, as were his brief featured moments. Valdés, Jr. in the piano, who along with Britos, Bonilla, and José "Cheíto" Quiñones has recorded under his name and fronted groups, cruised cool as usual.
Some places of interest during the varied musical tour visited several Cuban genres. One of its most colorful and energetic vistas was "Juana la coja." The elegant and traditional aesthetic of the danza and danzón, however, was treated in fine form with the notable participation of Torres and Bonilla. It is somewhat easy to capture the shell of said musical complex, enamoring its heart is another matter. Danzón's heart was not disappointed that night... Rumba's territory was seen several times, as well as some jazzy groves. Aside from known music associated with "Cachao," Noro Morales, for example, was interpreted by Torres, as Pedro Flores was by Valentín, to everyone's delight.




Torres and Valentín rarely perform together and having them do so turned out well for us all. A fellow enthusiast of their work present at the concert, nonetheless, described their interchange as Torres playing "to hear himself and Valentín playing to be heard." Aside from the fact that both were using different flutes, and their playing was processed through the sound system through different means -Valentín played directly into a stationary microphone and Torres had his customary mobile system- they can't be broadsided like that. All flutists concerned -as a Cuban child defector whose last name was Martínez- joined all for a final jam got down as nasty or sensitive as needed. Apparently, Torres saw said kid performing in Santo Domingo and has been trying to help him and his family. In his young years, his blowing seems promising and even he has a production in the market! Valentín blew harder still... Torres intelligence and finesse notwithstanding... It's all good...




Then Perera harped too, ¿tú sabes? His stringed touch touched us all adding its own touch of color. Perera's persona, playing and composing reminds one of a masculine version of the angel warriors from Spawn . His is a pristine sounding classical language with rare darker rhythmic overtonical forays issued with deadly accuracy. "Candombé," of his own inspiration, is a good example. The Harpist formula runs something like this: South America's Southern Cone + jazz + Blacks = both the rhythm and even a cultural identity of sorts. Joined by other talented local musicians, Perera opened the panorama to another level of Latin American music dipped on jazz. We were all privileged, moreover, to experience "Alfonsina del mar" through the playing of Torres and Perera.




Thanks to the producers of the Lincoln Jazz Concert Series for the opportunity to join Israel López "Cachao" and distinguished friends on a memorable night. The community eagerly awaits for more...




Musicians:


Bass- Israel López "Cachao" (Cuba) & Héctor Matute (Venezuela).


Congas- Tomás Díaz (Cuba) & Carlos "Patato" Váldez (Cuba).


Drums-Rey Monroig (Puerto Rico).


Flute-(?) Fernández (Cuba), Néstor Torres (Puerto Rico) & Dave Valentín (USA-PR).


Paraguayan harp-Roberto Perera (Uruguay).


Piano-Silvano Monasterios (Venezuela) & Alfredo Valdés, Jr. (Cuba).


Sax & clarinet-José "Tata" Palau (Cuba).


Timbales, bongos & percussion- Edwin Bonilla (Puerto Rico-USA).


Trombone-Mark Gregory (USA).


Trumpet-Feliciano Gómez "Pachú" (Cuba).


Violin-Federico Britos (Uruguay)


Vocals & percussion-Tony Columbié (Cuba) & José "Cheíto" Quiñones (Puerto Rico).
Post a comment